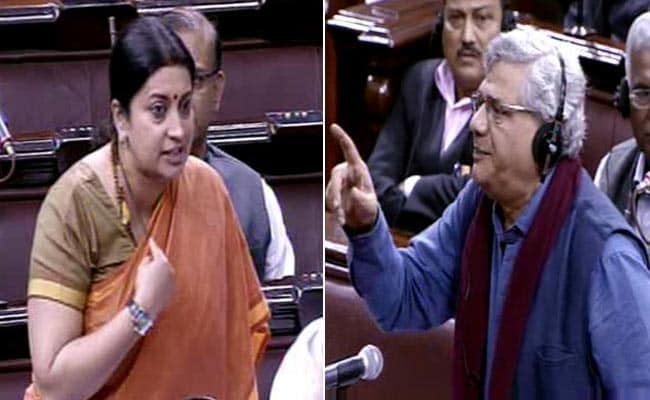 New Delhi:
Sparring over Union Minister Smriti Irani's controversial comments on Goddess Durga and Mahishasura - the demon killed by the deity - took up much of the debate today in Parliament on JNU students accused of sedition.
Here are 10 developments in the story:
As the opposition aggressively demanded Ms Irani's apology for reading out controversial references to Goddess Durga from a pamphlet allegedly distributed at JNU or the Jawaharlal Nehru University, the minister remained defiant.

On Thursday, Smriti Irani was replying to a debate on the JNU case and the suicide of Hyderabad student Rohith Vemula, incidents cited by the opposition as examples of the government trying to suppress dissent.

To demonstrate what she called the "depraved mentality" of a section of JNU students, the education minister started reading from a pamphlet allegedly circulated on campus, which had derogatory references to Goddess Durga. She also said "Mahishasur Martyrdom Day" was observed by students.

Ms Irani said today: "These are not documents of the government, I read it because I was asked to explain what is the proof. I would also like to say that I am a practicing Hindu, I am a Durga worshipper, I say it with a lot of pain what is free speech that certain political entities are giving respectability to."

CPM leader Sitaram Yechury questioned: "Why are Gods and demons being discussed in this house? Why is all this being brought up here and mayhem being created in the country?"

Attacking the government on the Rohith Vemula case, BSP leader Mayawati had earlier reminded Smriti Irani of her vow to "cut off her head" if her reply to the house was not satisfactory. "No, I am not satisfied with your reply. Will you now keep your promise?" Mayawati said.

The minister replied, "I appeal to BSP workers to come and take away my head. If you are not satisfied, I will cut my head and lay it at your feet."

The opposition had said this morning that Ms Irani must apologise or the house would not run. Deputy Chairman PJ Kurien said he would examine the remarks and have them removed if they were blasphemous.

For three days in Parliament, the government and the opposition have exchanged allegations linked to JNU students who have been charged with sedition over an event on February 9 in support of Parliament attack convict Afzal Guru, during which anti-India slogans were raised.

The fight and multiple disruptions threaten to hold up important legislation including the GST or Goods and Services Tax bill.
Post a comment