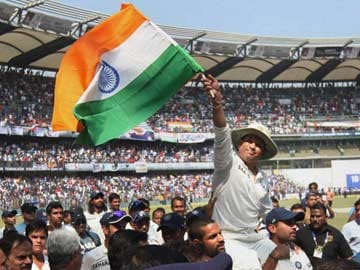 New Delhi: Sachin Tendulkar retired from international cricket on Saturday after playing his 200th and final Test. In his farewell speech, he thanked everyone who made him.
Here is our pick of the 10 best quotes from Sachin's speech:
My life has been between 22 yards for 24 years and it's hard to believe my wonderful journey is coming to an end.
I would like to thank the most important person in my life, who I have missed since 1999 when he passed away - my father. Without his guidance I wouldn't be standing in front of you.
My mother started praying for me the day I started playing cricket. I think those prayers and blessings gave me strength.
Anjali, you are the best partnership that I had in my life.
My daughter is 16, my son is 14. Time has flown by. I've missed out on several birthdays, holidays, annual days and sports days. Thanks for understanding, both of you have been so special to me. I've not spent enough time with you but I promise you the next 16 years or even beyond that, everything is for you.
In the last 24 years that I have played for India, I have made new friends, and before that, I have had friends from my childhood. They have all made a terrific contribution.
My cricket career started when I was 11. The turning point of my career was when my brother Ajit took me to Achrekar sir and that is the best thing to have happened to me.
I will be witnessing cricket, and cricket will always stay in my heart, but Achrekar sir have had an immense contribution in my life, so thank you very much.
My team-mates are like my family away from home. I have had some wonderful times with them. It is going to be difficult to not be part of the dressing room, sharing those special moments.
I want to thank my fans from the bottom of my heart. 'Sachin, Sachin' will reverberate in my ears till I stop breathing.