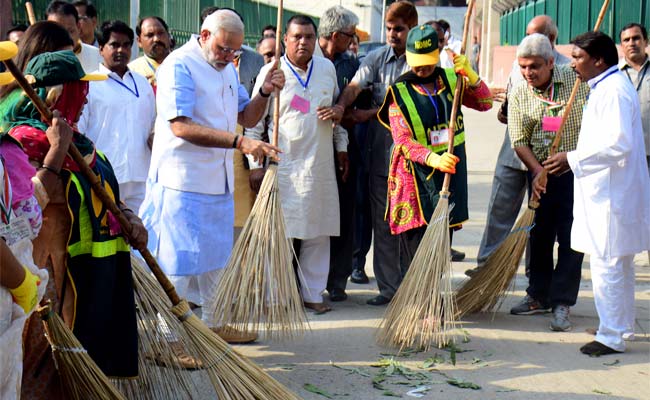 New Delhi:
Prime Minister Narendra Modi today launched an ambitious new countrywide campaign for a cleaner India with improved vastly-improved sanitation. Across the country, thousands of schoolchildren, officials and ordinary people picked up brooms and dustpans to clean parks, public buildings and streets.
Here is your 10-point cheat-sheet to the new Swachh Bharat Abhiyan or Clean India Mission:
The PM chose the birth anniversary of Mahatma Gandhi to launch the five-year drive to clean public spaces in a bid to change India's image as one of the filthiest countries in the world.

Hours after flying home from a hectic trip to the US, Mr Modi, 64, rolled up his sleeves and set an example by sweeping up rubbish in a Delhi neighbourhood called Valmiki Basti where Gandhi once stayed.

"Gandhi gave us the slogan: 'Quit India' and people came together to win our country's freedom (from British colonial rule)... but his other dream of 'Clean India' is still incomplete," the PM said in a televised address he made at India Gate in the heart of the capital.

The pledge taken publicly by him and thousands of others commits that they will spend 100 hours a year - roughly two hours a week - cleaning their surroundings.

The PM then led school children and activists in a walk through newly-cleaned roads.

The PM has made public health one of the main priorities of his new administration and has already promised to ensure all schools have separate toilets for girls and boys.

Elsewhere in state capitals and small towns, chief ministers from his party, the BJP, law-makers, school principals, factory workers and residents swept and cleared garbage, and cleaned ditches and parks.

To drive home his point, the PM had ordered all ministers and bureaucrats to report to work today- a national holiday for Gandhi's birth anniversary -and clean their offices including toilets.

Over the last week, cabinet ministers have been photographed sweeping the areas near their offices and urging their departments to clear files and get rid of clutter.

Many civil society organisations and companies have joined the campaign, spreading awareness in urban slums and villages by putting on street plays about rubbish disposal and handing out leaflets about hygiene.