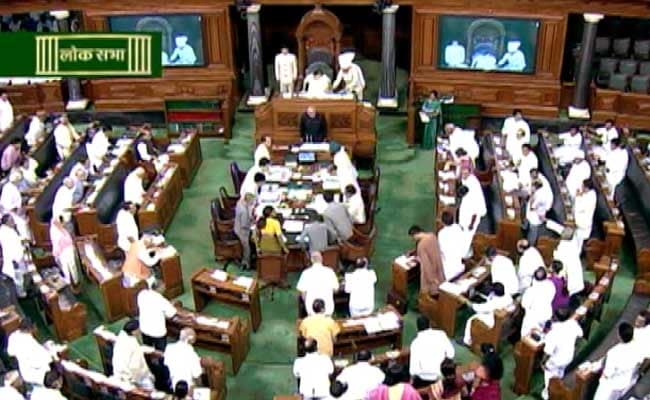 New Delhi:
Lok Sabha Speaker Sumitra Mahajan has suspended 25 members of the Congress for five days for causing "grave disorder" in Parliament. "It's a black day for democracy," the party's president Sonia Gandhi told NDTV.
Here are the latest developments:
The Speaker's action came soon after Sonia Gandhi made it clear that the Congress will not budge from its position that three top BJP leaders caught in controversies must resign before Parliament is allowed to function.

She also rejected the government's efforts to ensure Parliament functions; the Congress has continuously disrupted both houses since the monsoon session began almost two weeks ago.

The Speaker had repeatedly asked for order in the house and warned lawmakers of the main opposition party not to carry placards and wear black bands of protest to the House.

This evening, Congress vice president Rahul Gandhi tweeted that the party stands with each one of the suspended lawmakers. "The Modi Government will soon understand that truth cannot be silenced. The people of India and Congress Party have shown this in case of land bill. Truth will not be silenced in the case of corruption scams either where the Prime Minister is protecting the guilty. We stand with each one of our suspended MPs," Mr Gandhi said in a series of tweets.

The Congress, which has 44 lawmakers in the Lok Sabha has said it will boycott Parliament during the period of its members' suspension. The Trinamool Congress, which requested the Speaker to be more lenient, will also boycott Parliament for five days, it said. So will the Samajwadi Party, Janata Dal United and the Left.

Addressing party MPs this morning, Mrs Gandhi made a fierce attack on Prime Minister Narendra Modi, accusing him of a "deafening silence" on the scandals and said, "the champion of 'mann ki baat' appears to have retreated into a maun vrat (silence)."

After a meeting called by the government to discuss with other parties how to break the stalemate in Parliament, the Congress' Ghulam Nabi Azad said, "Outcome is nil. We stand by our demand."

Finance Minister Arun Jaitley said at the two-hour meeting that only the Congress insisted on disruptions till the ministers resign. Other opposition parties, said Mr Jaitley, indicated that they want Parliament to function.

Minutes after Sonia Gandhi spoke to them, Congress lawmakers shouted slogans as External Affairs Minister Sushma Swaraj attempted to speak in the Rajya Sabha, asserting that she had not asked the UK government to help tainted cricket mogul Lalit Modi.

Mrs Swaraj is one of the BJP leaders whose resignation the Congress wants. The others are Rajasthan Chief Minister Vasundhara Raje, also caught in what is being called Lalitgate, and Madhya Pradesh Chief Minister Shivraj Singh Chouhan over the Vyapam recruitment scam. The government has said there will be no resignations. But it offered the possible intervention of Prime Minister Narendra Modi in a debate if it is held.