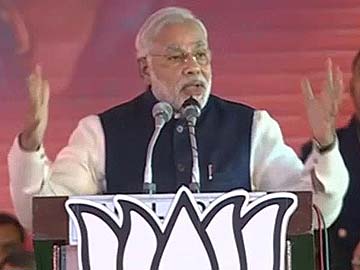 New Delhi:
Narendra Modi today launched a scathing attack on the Congress, saying its conclave on Friday was to save the party, not for the nation. Mr Modi targeted Congress president Sonia Gandhi, and party No. 2 Rahul Gandhi in his 75-minute speech at the BJP's national conclave meet.
Here are the top 10 quotes from Mr Modi's speech:
"Congress workers came for a PM and got three cylinders instead."

"When defeat is inevitable, which mother will sacrifice her son. This is the heart of a mother trying to protect her son."

"We don't just need bills, we need political will and a dil (heart). We have heard enough of Acts, what we need now is action. We do not need doles, we need delivery."

"They feel it's an insult to fight against a tea vendor... How can they take on someone from a backward caste whose mother used to wash dishes?"

"I can guarantee no party in the UPA coalition chose Manmohan Singh as PM in 2004."

On Rajiv Gandhi becoming PM immediately after Indira Gandhi's assassination in 1984: "Did any meeting of the Congress Parliamentary Party (CPP) take place (then)? Did the CPP elect a PM? Are there any minutes of that meeting? What democratic traditions is the party talking of? "

"I appeal to the people, you have given 60 years to rulers, now give 60 months to this 'sevak' (servant)."

"They (the Congress) are trying to save the party, we are trying to save the country. This is the basic difference between us."

"The 2014 polls are different because never before did the people of this country see so much corruption. This election is not about changing the government, but it is about (meeting) the hopes and aspirations of every Indian."

"Farmers are committing suicide, youths are unemployed, women are unsafe...a great democracy like India is leaderless."