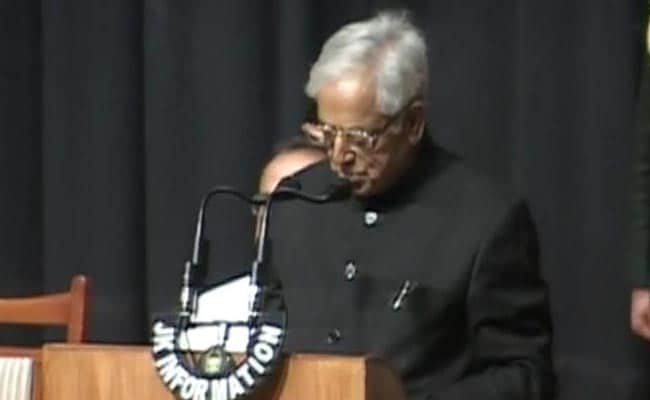 Srinagar: Mufti Mohammad Sayeed, 79, the veteran leader of the People's Democratic Party or PDP, took oath today as the chief minister of Jammu and Kashmir, bringing to an end the 49-day Governor's Rule in the state. He is leading a historic alliance with the BJP, which has become part of a government in the state for the first time.
Here are the latest developments
Prime Minister Narendra Modi, who attended the ceremony at Jammu University's General Zorawar Singh Auditorium, said, "The PDP-BJP government is a historic opportunity to fulfill the aspirations of the people of Jammu and Kashmir and take the state to new heights of progress".
A 25-member cabinet took oath , including BJP's Nirmal Singh, who will be the state's Deputy Chief Minister. Separatist-turned-politician and People's Conference leader Sajjad Lone has joined the government.
"Politics is the art of the possible, even when there are contradictions," Mr Sayeed later said. He had earlier dubbed the coalition as a meeting of the "North Pole and the South Pole".
The ceremony was attended by BJP chief Amit Shah, veteran leaders LK Advani and Murli Manohar Joshi.
This is Mr Sayeed's second stint as the Chief Minister. He held the post between 2002 and 2005 in a rotational arrangement with then ally Congress.
Later, Mr Sayeed offered a glimpse of the much-awaited Common Minimum Programme, or CMP, on basis of which they will govern the state.
The ideologically opposite parties have spent the last two months in attempts to bridge differences that have divided them for decades.
The document clarifies their stand over contentious issues like Article 370, which gives special constitutional status to the state, and the Armed Forces Special Powers Act or AFSPA, which gives the Army the authority to make arrests without warrants.
Former chief minister Omar Abdullah, who skipped the ceremony, tweeted, "Congratulations to Mufti Mohd Sayeed Sb (sic) on assuming the office of CM of J&K. I wish you all the very best for your term as CM."
In the December elections, J&K voted in a hung assembly. The PDP was the single largest party with 28 MLAs; the BJP was number 2 with 25. Together, they have an easy majority in the 87-member assembly.