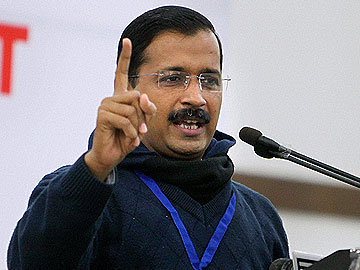 New Delhi:
Arvind Kejriwal's Aam Aadmi Party government may make good a threat to resign over its anti-corruption Jan Lokpal Bill today. The party has decided to go for broke and present the bill in the Delhi legislature despite Lieutenant Governor Najeeb Jung writing to Speaker MS Dhir that the bill does not have his approval. "The government will fall if the Jan Lokpal Bill and Swaraj Bill are not passed," Mr Kejriwal told NDTV on Sunday.
Here are the latest updates on this story:
The Lieutenant Governor's letter to the Speaker makes it clear that if the government tables the Jan Lokpal Bill, it will be unconstitutional. The AAP government has decided to go ahead despite his warning.

The Union Law Ministry had advised that the Lieutenant Governor, as a representative of the Centre, has the power to veto the bill if it is introduced or passed without his clearance, as the Jan Lokpal will be partly funded by the Centre. Mr Kejriwal's bill also overlaps with the national Lokpal law enacted in December, the Centre says.


The AAP has accused the Congress and the BJP of joining forces to block the Jan Lokpal Bill. "There is nothing unconstitutional in our bill. We are willing to do anything to pass it," said Delhi minister Manish Sisodia.


The Congress, which provides external support to the Aam Aadmi Party government, said it supports the Jan Lokpal bill, but it has to be brought in a constitutional manner.


"A bill with financial consideration needs the involvement of the Lieutenant Governor. This is not a kangaroo court, Mr Kejriwal wants to write his own Constitution," said Congress' Haroon Yusuf.

The opposition BJP also said there is no question of bringing a bill that is unconstitutional, though it supports the Jan Lokpal proposal. Senior leader VK Malhotra said, "Kejriwalji is murdering all rules, regulations, discipline and provisions. This is dictatorship."


Mr Kejriwal has rejected the view that he has to take the Centre's sanction and has said he will resign if his pet proposal, which creates an ombudsman or "Lokpal" to investigate corrupt government officers, is not passed.

The BJP and Congress on Thursday demanded Law Minister Somnath Bharti's removal over a series of controversies, including his raid last month in his constituency targeting Ugandan women he alleged were involved in a drugs and sex racket. Mr Kejriwal accused the two parties of "match-fixing."


AAP has demanded the BJP's apology after its legislator, RP Singh, placed bangles and lipstick on Mr Bharti's table on Thursday. "It was an insult to the women of this country," said AAP leader Yogendra Yadav.

Tomorrow is the last working day of the special session called just to pass the Jan Lokpal and Swaraj bills showcased by the party in its manifesto for the Delhi election.