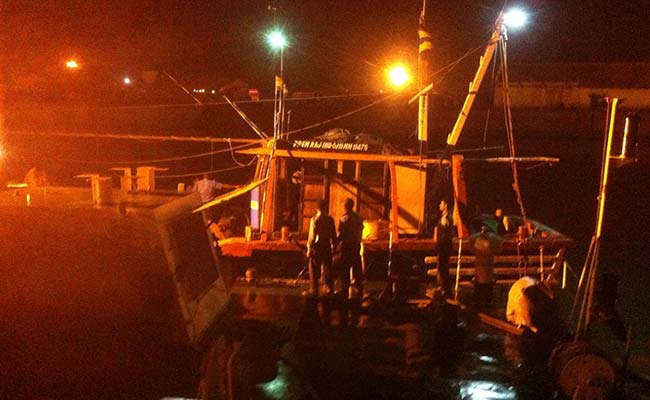 One person was killed in firing on an Indian boat from an unmarked ship in international waters today off the Gujarat coast. It is not clear yet whether the ship that attacked the boat is from Pakistan.
Here are the 10 latest developments in the story:
The Indian man killed has been identified as Iqbal, who belonged to Porbander in Gujarat.

The fishing boat, named Prem Raj, had set sail from the port of Okha in Gujarat with five people on board on September 8.

The Indian coastguard rushed two ships, the Vijit and the Meeraben to investigate the incident and launch a search operation, said sources.

The Vijit is escorting the fishing boat Prem Raj back to Okha.

The fishermen on the boat will be debriefed to establish the identity of the attackers. GPS devices on the boat will also be studied.

"The ship that fired had no markings and didn't fly a flag. It had about 40 people on board and slightly bigger than the Indian fishing vessel. Till we do a through investigation it will be difficult to pin-point the people behind the firing," Inspector General Operations of Cost Guard VSR Murty told NDTV.

Sources said it is not confirmed yet whether the ship belonged to Pakistan's coast guard, the Maritime Security Agency or MSA, as some early reports suggested.

The attackers could also have been armed fishermen, the sources said.

The firing took place early on Friday morning.

The Prem Raj was near the International Maritime Boundary Line or IMBL when it was fired upon.