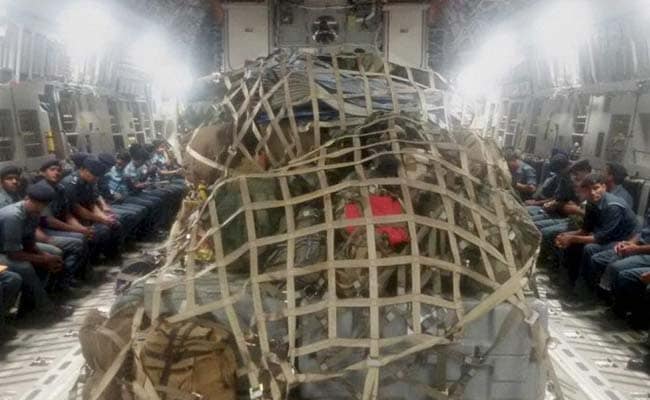 New Delhi/Kathmandu:
Hundreds of Nepalis are today fleeing the capital Kathmandu, for the plains, following the massive earthquake on Saturday that has so far killed 3,726 people and injured 6,500. At Nepal's only international airport in Kathmandu chaos continued today with hundreds of people waiting to be evacuated. Indian choppers are being used to evacuate people from the inner parts of Sindhupal Chowk, Gorkha and Nuwakot districts, as well as from Bhaktapur and Kathmandu.
Here are the 10 latest developments:
Two Indian Air Force (IAF) flights arrived late this afternoon with 213 more passengers. Passengers told NDTV that hundreds of Indians are still stuck in Kathmandu, walking for miles to reach the airport. At least 150 Indians reached the Indian border at Raxaul, from Nepal, this morning. India has so far evacuated 2,246 people.

At least 40 Indian mountaineers remain trapped today at Everest Camp I and II, cut off from the Base Camp, following avalanches triggered by the massive earthquake two days ago, officials said. A 34-member Indian Army team was at the Base Camp and was presently engaged in rescue operations. Seven women pilgrims from Assam and a Telugu film choreographer are also among those feared dead in Nepal.

India's relief and rescue operations have been bolstered by an inter-ministerial Indian team, which left today for Nepal, to coordinate rescue efforts there. "Nepal is our neighbour and we also have cultural relations with it. We have been making all possible efforts from our side," Home Minister Rajnath Singh said today.

Today morning brought the sun and some respite in devastated Kathmandu, where rain on Sunday hampered rescue work. Progress on relief yesterday was also hit by 55 nerve-shredding aftershocks, one a tremor of 5.4 in magnitude, a little before 10 last night.

Thousands of people spent last night huddled under makeshift tents made of plastic sheeting, which did little to protect them from heavy rain, as they lay sleepless with fear due to the aftershocks.

People queued for water dispensed from the back of trucks. Crowds jostled for medicine at one pharmacy. The situation has been exacerbated by power cuts and the country's cell phone network is at breaking point. There are long queues at fuel stations for petrol and diesel.

Overwhelmed authorities are trying to cope with a shortage of drinking water and food, as well as the threat of disease. Nepal's Prime Minister Sushil Koirala today appealed to Nepalis to donate blood as hospitals badly need it to treat those injured.

A Rapid Action Medical Team of the Indian army is ready with medicines and equipment for a first aid centre in Lagankhel, eight km from the Kathmandu airport. The IAF is flying in six medical teams, equipment, blankets and tents, to Nepal.

Almost one million children urgently need help since Saturday's quake, said the United Nations Children's Fund, as relief workers raced to help the most vulnerable. With thousands of children camping out in the open in the capital Kathmandu -- after their homes were destroyed in Saturday's quake -- the UN agency warned of the risk of disease.

The earthquake that devastated Nepal and jolted northern India, damaging buildings as far apart as Agra and Siliguri, was expected by geologists, who have warned of more Himalayan earthquakes caused by the growing pressures of the sub-continent grinding into the Asian mainland. The government of India today lists 38 cities in moderate to high-risk seismic zones.