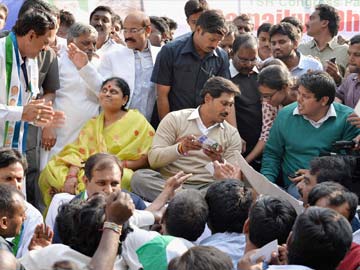 New Delhi:
A controversial bill to create Telangana by dividing Andhra Pradesh is likely to set off a political confrontation in Parliament tomorrow with a desperate government determined to push it through, even without a discussion, despite the BJP's warning. Andhra Pradesh Chief Minister Kiran Kumar Reddy may resign tomorrow over the Centre's decision to bifurcate his state; eight of his officials have been given new postings, according to sources.
Here are the latest updates on this story:
The ruling Congress has ordered all its MPs to be present in Parliament this week and sources indicated that the party was all set to push the bill through even without a discussion, if necessary. A three-line whip has been issued to all Congress MPs.

The BJP has told Home Minister Sushil Kumar Shinde that the government should not try to pass the Telangana bill in chaos and without the presence of all stakeholders in the house.

"One section of Andhra Pradesh can't be missing," said senior BJP leader Arun Jaitley, demanding that 16 MPs suspended for protests against Telangana, including those from the Congress, be allowed in during a discussion on the new state.


The MPs were suspended after unprecedented violence in Parliament last week. An expelled Congress MP, Lagadapati Rajagopal, used pepper spray on lawmakers in the Lok Sabha and other MPs yanked mics and broke a computer. (MPs shame India, vandalize Parliament)


Politicians from Seemandhra, or the non-Telangana region of Andhra Pradesh that is strongly opposed to bifurcation, have vowed to stall the bill at all costs. Seemandhra is worried about a smaller share of water, power and revenue from Telangana once the new state is created.

The BJP's warning to the government came after five central ministers from Andhra Pradesh, including Chiranjeevi, Pallam Raju and Purandeswari, met senior BJP leader LK Advani and urged the main opposition party to oppose the bill.(Live Blog)

Jagan Mohan Reddy, who sat on protest in Delhi all day today, also reached out to the BJP. "We will support anyone who helps us keep Andhra Pradesh united and Narendra Modi is not an exception," Mr Reddy told NDTV. (highlights of Jagan Reddy's interview)


Eight trainloads of people from Andhra Pradesh, including government employees from Seemandhra, have arrived in Delhi to participate in protests against Telangana. Three key metro stations were shut till evening due to security concerns in the most protected VIP zone in the heart of the city.

The Centre has five days to pass the bill that will create India's 29th state. The ruling Congress hopes to reap electoral dividends from Telangana in the national election, due by May.

Congress leaders in Seemandhra, including Chief Minister Kiran Kumar Reddy, however fear that the move will decimate the party in the residuary state.