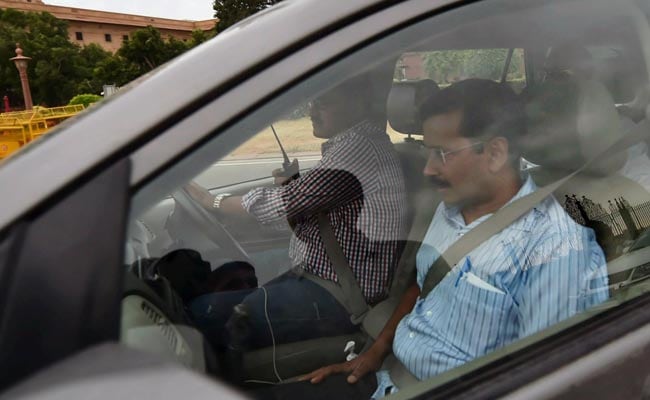 New Delhi: In separate meetings on Tuesday, Delhi Chief Minister Arvind Kejriwal and Lieutenant Governor Najeeb Jung urged President Pranab Mukherjee to step in amid an escalating power struggle that started with the appointment of a top officer last week.
Here are 10 developments in the story:
Arvind Kejriwal complained about what he alleges is blatant overreach by Mr Jung, who unilaterally promoted IAS officer Shakuntala Gamlin as acting Chief Secretary, making her Delhi's seniormost officer without the Chief Minister's consent.
"Bypassing the Chief Minister and threatening officers is not good for democracy. The Lt Governor is running the government as if it is under President's rule," Deputy Chief Minister Manish Sisodia said after the meeting with the President.
Mr Sisodia has called a meeting of all Secretaries and the Chief Secretary on wednesday morning at 10 am, say reports.
Mr Kejriwal had earlier instructed officials, including the Chief Secretary, not to follow any order from the Lieutenant Governor without running it by him or other Delhi ministers.
The Lieutenant Governor, who also met Home Minister Rajnath Singh, is believed to have said that this kind of order "cannot be tolerated or allowed," and the central government has to take a call. Sources close to Mr Jung say he has expressed concern about a "complete breakdown of Constitutional machinery."
Mr Jung is believed to have said that at the root of the present crisis is the Chief Minister's demand for full statehood for Delhi as he wants a free hand to deliver on poll promises.
Legal experts consulted by the Aam Aadmi Party (AAP) government have backed Mr Kejriwal. "There is no provision granting the LG the power to act at his own discretion in the matter of appointment of the chief secretary," said former Additional Solicitor General Indira Jaising.
The new order came after the Lieutenant Governor wrote to the Delhi Government saying its decision to remove an officer and appoint another were "void" as he had not cleared it.
The bureaucrat who was removed, Principal Secretary Anindo Majumdar, was locked out of his office yesterday, reportedly on the Chief Minister's orders. Mr Majumdar's duties have been allocated to two officers, Rajender Kumar and Arvind Ray.
Mr Kejriwal's objection to Shakuntala Gamlin's appointment is based on his allegation that she tried to favour power distribution companies in Delhi and acted against public interest.