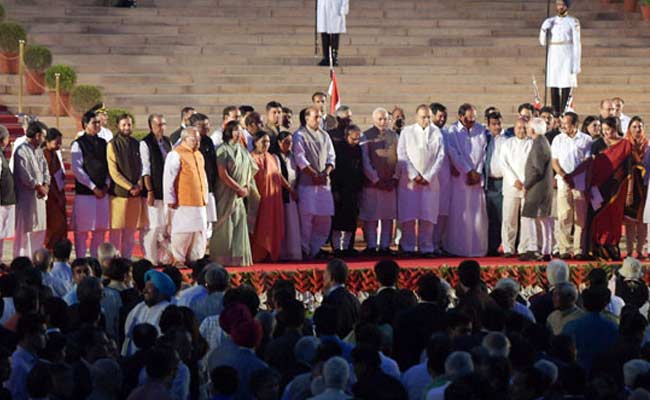 New Delhi:
Before his new ministers are sworn in on Sunday in the first Cabinet expansion, Prime Minister Narendra Modi will meet all of them over "tea and dhokla", sources have said. Mr Modi is expected to deliver a pep talk before they all drive to the presidential palace Rashtrapati Bhavan to take oath.
Here are the Latest Updates
The oath-taking ceremony is expected to begin at 1.30 pm on Sunday. It will be held in the Durbar Hall of the Rashtrapati Bhavan, sources said.

Among those who will be sworn in on Sunday is Goa Chief Minister Manohar Parrikar, who is tipped to take over as India's next Defence Minister.

On Saturday morning, the BJP's parliamentary board, a group of the party's topmost leaders, will meet in Delhi to approve Mr Parrikar's move from Goa to the Centre.


Among other names doing the rounds are those of Giriraj Singh, a former Bihar minister most known for his controversial comments, and Ramkirpal Yadav, the BJP's new import from Lalu Yadav's Rashtriya Janata Dal. Mukhtar Abbas Naqvi, BJP spokesman for a long time and one of the party's most prominent Muslim faces, could also be made a minister, sources said.

Olympic Silver medalist Rajyawardhan Rathore is another hot contender. He won the election from Rajasthan, where the BJP won all 25 parliamentary seats; the sentiment within the state unit of the party is that it was not given due recognition in the council of ministers despite its unbeatable run rate.


PM Modi has a packed Sunday schedule. He will attend a function on Sunday morning, before heading back to his 7 Race Course Road residence for the "chai pe charcha (meet over tea)" with those to be sworn in as ministers.The PM is expected to brief them on their duties and the conduct he expects from members of his team. He had held a similar meeting before his oath ceremony in May.

The BJP's allies Shiv Sena and the Telugu Desam Party or TDP are expected to get more ministers at the Centre and have reportedly sent in names of those they want in those positions.

Apart from new inductions, the Prime Minister is also expected to reshuffle portfolios, promote some ministers and could even axe a few based on a performance assessment.

All through the day today those who will be inducted into the cabinet have got calls from the Prime Minister, inviting them for tea and to join his team.

PM Modi took oath in May this year with a slim team of 45 ministers; this will be the first cabinet expansion. There are currently 22 cabinet members and another 22 ministers of state, including 10 with independent charges.