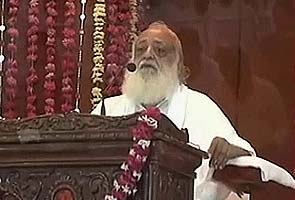 New Delhi/Jaipur: The police in Rajasthan today summoned spiritual leader Asaram Bapu, who has been accused of sexually assaulting a 15-year-old girl. Sources say the Jodhpur police have given him four days to come for questioning. There were also calls in Parliament today for action against him. The yoga guru has denied the allegation, calling it a conspiracy against him. This is not the first controversy linked to the 72-year-old.
Here is your 10-point cheat-sheet to this story:
A 15-year-old girl had alleged last week that Asaram Bapu asked her to stay back after prayers at his Jodhpur ashram, and sexually assaulted her as her mother waited outside.
The spiritual leader said some people were trying to "malign the image of saints". He said the complainant was "like his granddaughter" as her parents were his disciples.
But Asaram Bapu has reportedly admitted that he did meet the girl, whose family in Uttar Pradesh have been his followers for 12 years.
The Jodhpur Police say they have crucial evidence against Asaram Babu. Police officers told NDTV last week that the girl's description of the place where she was allegedly assaulted was accurate.
In the Lok Sabha, several members demanded action against him amid outrage over crime against women, including the Mumbai gangrape. Janata Dal-United leader Sharad Yadav said "There is one sadhu who is taking the country for a ride. What have you done in the case?"
Home Minister Sushil Kumar Shinde responded by saying these were state-related issues, but he would make a statement when there was more information.
In January this year, Asaram Bapu was severely criticised for his comment after the Delhi gang-rape, that the girl could have escaped rape if she had called her attackers brothers, fallen at their feet and begged to be let off.
In the past, the spiritual leader has been accused of involvement in land-grab cases in Gujarat and Madhya Pradesh.
Born in a village in Pakistan, Asaram Bapu grew up learning spiritualty and meditation from his mother. After leaving home, he travelled the country till he joined the ashram of saint Lilashah in Vrindavan, UP.
Over the years, he gained popularity with his mass satsangs - or discourses - in cities across India.