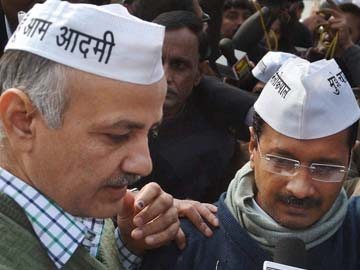 New Delhi: Arvind Kejriwal, set to be the next chief minister of Delhi, has refused to move into the government bungalow he is entitled to as the head of the government. His party on Tuesday finalised six cabinet ministers and recommended the names to Lieutenant Governor Najeeb Jung.
Here are the latest developments:
Manish Sisodia, who is among the Aam Aadmi Party's 28 newly-elected legislators, is expected to get an important portfolio. (Pics: Meet Team Kejriwal's ministers) The 41-year-old journalist-turned-activist-turned politician trended on Twitter earlier this week after he stood by Mr Kejriwal's side to announce that the AAP will form the government.

Rakhi Birla, 26, will be the youngest member of the cabinet. She defeated heavyweight Rajkumar Chauhan, the Public Works Department Minister in the outgoing Sheila Dikshit government, by about 10,500 votes. (Read: Kejriwal to head youngest Cabinet with first-time MLAs)

The AAP placed second in the Delhi election - a King Kong political debut for the one-year-old party.
The BJP was in first place but did not manage a majority and said it would not try to form the government. The Congress - which had governed Delhi for 15 years - was relegated to a paltry third place, and is supplying external support to AAP. (Read)

Today, senior Congress leader Janardhan Dwivedi admitted that a large section of the party does not believe it should support the AAP.
Senior AAP leaders have said they expect the Congress to work against them, and pull the plug on the government.
In a video released in seven languages on YouTube, Mr Kejriwal has justified why he decided to accept the Congress' support and form the government.
AAP says that a public referendum it held last week proves that voters want it to take a shot at governance.

Mr Kejriwal has refused police security and a large house as chief minister. He says he wants to live in a small flat instead in the capital. (Read) He has repeatedly asserted that his to-do list includes decimating the "VIP culture" that politicians are attuned to.(Foreign media on Arvind Kejriwal's "no thanks" to VIP perks)

As Mr Kejriwal met Delhi's Lieutenant Governor on Monday to stake claim to form government, a workshop was held to give the party's MLAs a lesson in "swaraj" or good governance.