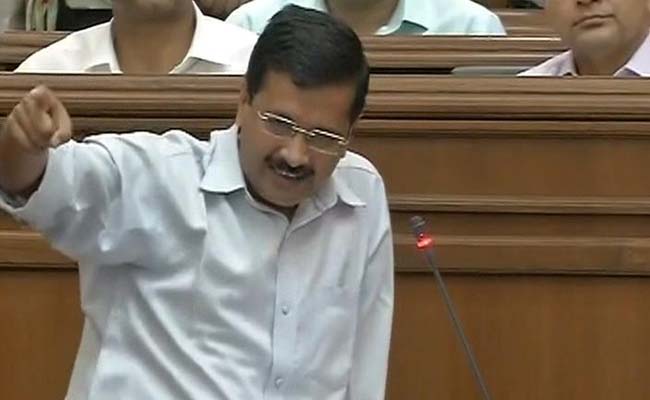 New Delhi:
The Supreme Court today refused to step into the unpleasant power battle between the Centre and the Aam Aadmi Party government in Delhi and said the High Court will decide on a controversial home ministry notification that said that Chief Minister Arvind Kejriwal had limited powers.
Here are the latest developments:
The High Court is hearing Mr Kejriwal's petition challenging the notification issued last week, which declared that he has no role in the appointment of bureaucrats.

The High Court had, earlier this week, called the notification 'suspect' and said the Lieutenant Governor, who represents the Centre, is "bound to act upon the aid and advice" of the Delhi council of Ministers.

The 'suspect' tag was challenged by the Centre in the Supreme Court, which said today that the high court must hear the case independently and not get influenced by any observations.

The Lieutenant Governor acts as the representative of the Centre in Delhi and is vested with considerable powers because the capital is a union territory, not a state. AAP, which came to power in Delhi with a record win in polls in February, says the Lieutenant Governor cannot ignore an elected government.

Mr Kejriwal alleges that the ruling BJP at the Centre wants to govern Delhi by proxy, with just three legislators in the 70-member state assembly; AAP won the remaining 67 seats.

In a two-day "emergency session" of the Delhi assembly this week, the AAP-dominated house called the Centre's notification 'illegal.'

The turf war that has been simmering since Mr Kejriwal became chief minister in February escalated two weeks ago when Lieutenant Governor Najeeb Jung appointed an IAS officer as acting Chief Secretary.

Mr Kejriwal objected to the appointment, alleging that the officer, Shakuntala Gamlin, had favoured private power companies and did not deserve to be Delhi's top bureaucrat. He has asked the High Court to overturn the appointment.

To get back at the Lieutenant Governor, the AAP government removed an officer who had signed off on Mr Jung's order and appointed its preferred officers.

The Centre has also declared that its employees and officers cannot be investigated for venality by Delhi's Anti-Corruption Bureau, which reports to the Chief Minister.