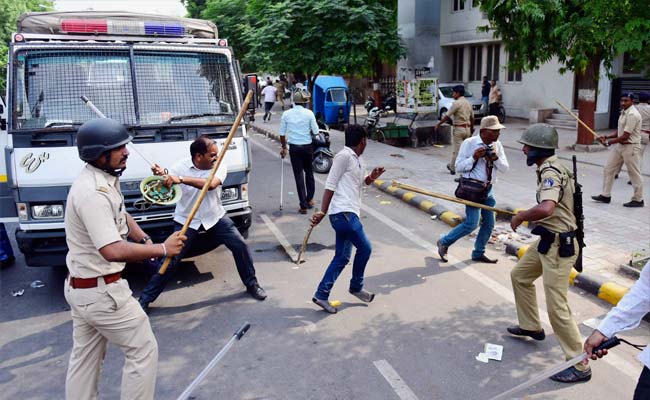 Ahmedabad: The Gujarat High Court has issued notice to the Ahmedabad police chief, asking him to probe alleged police excesses during Tuesday's protest by the Patel community over reservation. The court has given him two weeks to finish his probe.
Here are the latest developments:
Eight people, including a policeman, have died in the state since Tuesday night in violence that erupted after the brief detention of Hardik Patel, 21, who led a massive rally in Ahmedabad for reservation in government jobs and colleges for the powerful Patels or Patidars.
Eleven columns of the Army have been deployed in Ahmedabad and three other cities - Surat, Rajkot and Mehsana - to help restore law and order. No major violence has been reported since last night.
53 companies of paramilitary forces have also been deployed to help the Gujarat police restore law and order in Ahmedabad, Surat, Rajkot, Jamnagar, Morbi, Vadodara, Mehsana and Banaskantha.
Four people allegedly died in police firing and the Patidar Anamat Sangharsh Samiti led by Mr Patel has demanded that murder cases be filed against the police. It also wants Rs 30 lakh each for the families of those killed.
A policeman who was injured during clashes in Surat on Wednesday morning, died last night.
The Patels have called on farmers of the community to cut supply of milk and vegetables to cities to register their protest against the deaths in alleged police firing.
Curfew continues in several parts of Ahmedabad and Surat, where schools and colleges are closed for a second day today. Curfew will be reviewed today, the police said.
Internet on mobile remains suspended for the second day today to check spread of rumours through WhatsApp and SMS. Internet can however be accessed on computers at homes and offices.
Nine trains have been cancelled, including a Rajdhani. 19 trains were stopped before they entered Gujarat and five trains have been diverted.
Chief Minister Anandiben Patel has appealed for calm, but has rejected the Patel demand for quota, saying it's not possible as Gujarat has already hit a 50 per cent cap on reservation.