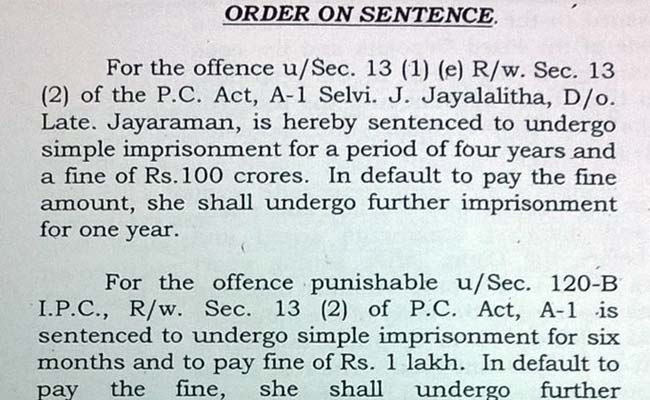 J Jayalalithaa, one of the most powerful and popular politicians from Tamil Nadu, will spend at least another week in jail. The 66-year-old former Chief Minister's request for bail will be heard on Tuesday, the Karnataka High Court has decided. On Saturday, she was sentenced to four years in jail and fined Rs 100 crore.

Jayalalithaa was arrested last weekend after being found guilty of corruption by a court in Bangalore, where the case against her was tried to ensure that the proceedings against her would be fair and free of any influence in her home state. She was replaced by another leader from her party as chief minister because her conviction means she is disqualified from office.
Here are eight big quotes in the lengthy order that sentences her:
Prosecution has proved beyond reasonable doubt that Jayalalithaa acquired immovable properties worth Rs 53 crore for which she could not account. (Read full court order)
Prosecution has proved beyond reasonable doubt that Jayalalithaa and three other accused were party to criminal conspiracy with the object of acquiring and possessing pecuniary resource.
There were frequent transfers of amounts between one account to another to facilitate illegal acquisition of assets.
Flow of funds establishes that all accused have participated in conspiracy to launder the ill-gotten wealth of Jayalalithaa.
Prosecution has proven beyond doubt that the only source for the acquisition of large assets is Jayalalithaa.
All remittances in bank accounts were made by the staff of Jayalalithaa, working in her residence.
It cannot be believed that as a CM of large state she was unaware of large scale activities carried out by persons in her residence.
Banks ordered to remit cash/Fixed Deposits of all accused, which shall be appropriated and adjusted towards the fine amounts. If the fine still falls short, gold and diamonds which were seized shall be sold to RBI, SBI or auctioned to make up deposit.