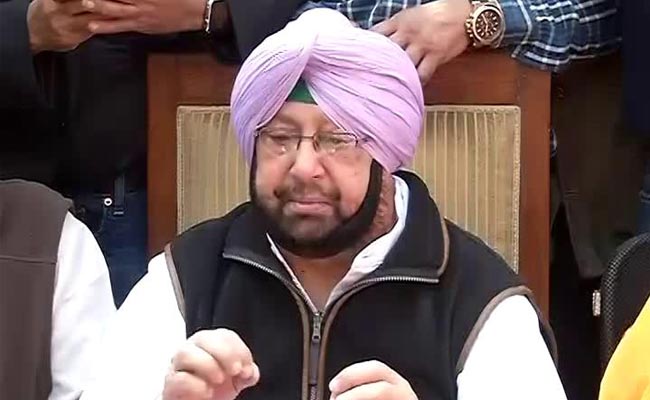 Chandigarh:
Punjab Chief Minister Amarinder Singh today said "farmers cannot be expected to give up crop residue burning completely", till the time they are provided viable solutions.
The statement comes on a day when Delhi Chief Minister Arvind Kejriwal met his Haryana counterpart Manohar Lal Khattar to discuss air pollution and stubble burning.
Asserting that a long-term solution was needed to arrest the problem of crop residue burning, the Punjab Chief Minister said the state government was looking for affordable solutions for this problem.
Notably, farmers of Punjab and Haryana have been blamed for the rising air pollution level in northern states including Delhi triggered by their stubble burning.
"We are engaged in spreading awareness among farmers on the need to stop burning the stubble, not just for the sake of others but also for their own sake, as they are the worst affected by the air pollution triggered by such burning. However, till we are able to offer them viable solutions, we cannot really expect them to completely give up burning crop residue since it's a matter of their livelihood and survival," Punjab Chief Minister Amarinder Singh told PTI in an interview.
The Punjab Chief Minister has refused to meet Mr Kejriwal after the latter sought a meeting with him in Chandigarh.
He urged the AAP national convener to refrain from trying to "politicise" such a serious issue.
Mr Singh said he failed to understand why the Delhi Chief Minister was trying to force his hand, knowing well that any such discussion on the issue would be "meaningless and futile".
The Punjab Chief Minister has been pressing hard for intervention of the Centre to convene a meeting of Chief Ministers of the affected states along with the Union Ministers for Agriculture, Food and Environment to find out a long-term solution to stubble burning issue.
Mr Singh had even suggested that Prime Minister Narendra Modi give a bonus of Rs 100 per quintal as an incentive to farmers so they can manage the crop residue scientifically.