Most children used to be warned by their parents to keep away from dirty old men and they were probably right. What they did not know was that these old men would find themselves in positions that reshape the world. Last night, one of them, masquerading as the President of the United States, pulled his country out of the historic Paris Climate Accord because he was going to serve his constituency, the people of Pittsburg, and not those of Paris and the people of America, and not pour "billions and billions" of foreign aid into India to get it to comply.
Of course, India's leading cricketer and current Twitter favourite Virender Sehwag didn't think much of the business of global warming one way or the other,
asking
in a very Trumpseque way..."Traffic and congestions
se
India
ke pollution par kya farak padta hai
. Concentrate on real issues!"
And it seems that Donald Trump followed his advice. In a sense he is right in saying he is addressing his constituency, a constituency that believes it has limited stake in the future but is concerned about the present. The people who supported Trump are white, male, middle class, non-graduates above 50 and evangelical Christian.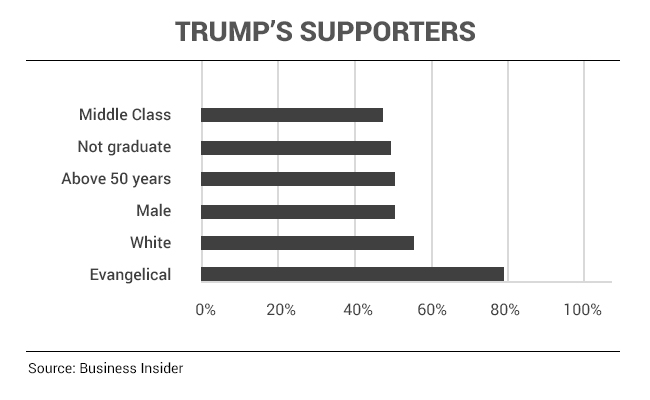 These are the people who elected him and currently stand by him. And if there is one thing that Trump is aware of, it is that he did not get a majority or popular vote, but won the presidency through the electoral college. And these are the people that tipped the balance in his favour in key states.
Therefore all his policies, or attempts at policies, since many haven't quite got off the ground, are those are directed towards his key supporters. The travel ban gets support of the anti-immigrant lobby; the ban on the federal funding of Planned Parenthood was directed at the anti-abortion Christian lobby; getting the Republican House to repeal Obama's Medicare is core to the Republican party belief in minimal government; threatening NATO and trading partners is aimed at the white voters in the Rust Belt and closely linked to his cry that the world has been living off America - and opting out of the climate accord is part of saying exactly that.
And this is an America that buys simplistic arguments. You can't prove that there is climate change; lefty liberals went to Paris and sold America down the drain; by opting out of climate change, there will be more jobs for coal miners as there will be more coal-based power plants (ignores the fact that Macy's employs more people than the coal industry); ignoring environmental restrictions will help boost the economy. These can be explained by Trump to his constituency in easy terms of "good for growth", "bad, very bad for America", " Pittsburg not Paris", and of course "make America Great Again."
These people with low education levels, biases born of religion, having not recovered from the last big recession, are old and borderline poor (at least not as well off as before) and they are worried about themselves and not much more. In a society that is self-indulgent and self-caring and self-seeking, these people see no virtue in the future, nor are they particularly concerned about what kind of world their children will inherit; they are more concerned about how they will spend the sunset years of their lives.
And the United States is not alone in old, white, poorly educated voters having swung policy, and maybe an election. Brexit is the classic example of where families were split by age and education and it was the heavy turnout of the over-65 that pushed Britain out of the EU and is now threatening to bring Theresa May back to power.
The latest polls in Britain again show growing support for Labour amongst the under-34. Most
polls
except YouGuv predict an easy victory for the Conservatives because older voters who are heavily in favour of May will turnout out in large numbers while the younger ones, many of whom are working (in Britain there is no holiday to vote) will not. It is
estimated
that only 36% of under-25s voted in Brexit compared to 81% for those above 55. Also, the above-65 outnumber the under-25 by 3%. Age, not class, according to YouGuv is the new divide.
Again, here, the older, less educated and often jobless voters were easy prey for those blaming EU regulations, immigration and foreigners in general for their plight. It is hard to explain to someone in Britain's old rundown industrial towns how and why staying in the EU will keep the pound strong and the economy booming, or the advantages of being able to work anywhere in Europe when they can't get work at home and cheaper European labour can.
Nothing probably exemplifies the age divide than Trump's older white male advisors, Stephen Bannon and Reince Priebus, supporting the exit from the Paris Agreement, and Trump's daughter Ivanka fighting to stay. She has young children and a stake in the future of the world. Trump is a builder, builders have never really liked environmental norms as they restrict quick and easy construction, and he is unlikely to be an exception. With falling ratings, Trump needs to keep the flock together and is willing to do anything that keeps his head above 40% in the opinion polls.
And finally, ask yourself, you heard Trump talk about women and sex, but have you ever seen him play with his grandchildren? Google it, and see how little comes up.
(Ishwari Bajpai is Senior Advisor at NDTV)
Disclaimer: The opinions expressed within this article are the personal opinions of the author. The facts and opinions appearing in the article do not reflect the views of NDTV and NDTV does not assume any responsibility or liability for the same.