Rewriting history could pass off as a favourite hobby for India right now...we don't like our past, so let's just rewrite it. Why should Bollywood be any different? Millennials don't know Baba or Sanju, they know Munnabhai, the bumbling do-gooder created lovingly by Rajkumar Hirani in 2003. The third instalment of the Munnabhai series, "Munnabhai Chale America", had to be shelved due to Sanjay Dutt's conviction and subsequent imprisonment for possessing illegal weapons acquired from the underworld dons responsible for the Mumbai attacks in 1993.
"Munnabhai" may not have been able to make it to America but "Sanju" has arrived with massive force - as of today, it holds the record for the biggest non-festival/non holiday opening weekend and the 5th-highest debut of all time. The numbers as of yesterday were 166 crores (net approx. source: Boxofficeindia.com) with predictions of it crossing 200 crores in the first week. If the rains in Mumbai had not played spoilsport, it may have crossed that mark earlier! Audience happy, film trade happy, Sanjay Dutt and family happy...what are the critics cribbing about? Why the griping about "whitewash" when everyone is loving the glossy strokes? Is poetic license a sin?
Don't know about the critics, but I felt Sanjay Dutt deserved a more honest, layered portrayal...not the victim narrative or the cheap trick of a misunderstood man with a heart of gold. I feared it would happen when it was confirmed that a biopic would be made on the life and times of Dutt even as he lives and works in Bollywood. I bought it up with Raju Hirani while he was shooting "PK" in 2014, when the idea of the biopic was still being tossed around. I asked him if he'll be able to tell it like it is; after all, "Baba" (as Dutt is known in film circles) is much loved and venerated by the film fraternity. Raju Sir reassured me the film will be factual since so much information was already in the public domain and Baba himself had over the years spoken about his life at length. We discussed the very candid episode of "Jeena Isi Ka Naam Hain", a TV show produced by NDTV in which Sanjay and Sunil Dutt revisited his drug phase and the 1993 TADA case.
What is obvious after watching "Sanju" is that it is an endorsed biopic (which has been fictionalized as the disclaimer in the film says) of Sanjay Dutt, as told by Sanjay Dutt! This is the version of his life that he (plus Manyata + family) will want people to believe and remember. That he should choose Raju Hirani, the writer-director who conceived and popularized him as "Munnabhai", an image that has outlived his bad boy with guns persona of a "Khalnayak", is not difficult to understand. What is difficult to understand though is why Raju Hirani played along. A master of innovative commercial hits, he could have been more daring and authentic. Audiences would have still loved "Sanju", may be loved him more, if some complexities of his character, some darker corners of his life, had been made public without attempts to rainbow them up. Maybe some ownership of Sanjay Dutt's role in the circumstances of his own life would have made me respect him more. That would have been the revelation...the rest we already know.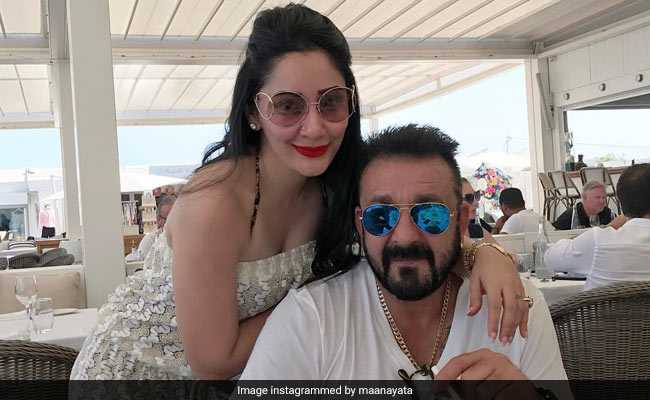 Hirani, astute filmmaker, knew this criticism would be exercised against him, so the first 10 minutes of "Sanju" shows the film-maker's dilemma through two writers who are commissioned to write Sanjay Dutt's life story. The first (played by Piyush Mishra) who draws parallels between Baba and Bapu is forcibly thrown out of the house. The more savvy one (played by Anushka Sharma with blue contact lenses) initially refuses to chronicle the life and times of a terrorist but is cajoled by Baba (and Manyata) into writing "Kuchh Toh Log Kahenge" (in English and for an international audience, if you please). Sorry not sorry for being one of those "Log"!
I was 11 when "Rocky" (1981) released. When Sanjay Dutt asked Tina Munim "Kya yahi pyaar hai?" I happily affirmed, "haan (X3), yahi pyaar hain". Through the terrible 80s, I remained loyal to Sanju through his unchallenging big hits as he romanced Mandakini in "Jeeva" ("Roz roz aankhon tale, ek hi sapna chale") Madhuri in "Saajan" ("Tu shayar hai, mein teri shayari"). By the time Sanjay got booked under TADA in 1993, I was already a part of the TV news business. I understood the facts of the case but couldn't stop feeling bad for Dutt.
I wish he had remained the bad boy of my wonder years...not the hyped poor dear victim of now.
(Sonal Joshi is a consultant with NDTV 24x7.)
Disclaimer: The opinions expressed within this article are the personal opinions of the author. The facts and opinions appearing in the article do not reflect the views of NDTV and NDTV does not assume any responsibility or liability for the same.