You know that story this week where the Tamil Nadu governor Banwari Lal Purohit touched a reporter's cheek and was then
publicly shamed for it till he apologised
? I can't get that out of my head because it's the first instance of its kind where journalists got together and demanded an apology in a public letter, when one of their own faced inappropriate behaviour at her workplace. What made it possible was also the brazen nature of it - she asked a professional question of the Governor (who himself faces charges of proximity to the accused in the
"sex-for-degrees" scandal
) in front of a room full of other journalists, and instead of answering her, he decided to condescendingly touch her face because he said a) she asked a good question and b) she was like his granddaughter.
Aww, have you ever heard something that sounds as sweet as that? You may not have, but we women journalists have heard it all through our careers. So, in this piece, I've decided to give you a small sampling of what is very commonplace in the life of women journalists in India.
A couple of weeks ago, for instance, I was at an official event which was attended by several ministers, politicians and bureaucrats. Towards the end of the evening, one of the ministers who I didn't have more than a nodding acquaintance with seemed to swoop down on me while on his way out. At that time, I was with another journalist and an MP. Closing in, he whispered, "You know, you've put on weight.'' "Really?'' I said, my voice tapering off after him. He turned around in this suave way and said nodding, "Oh yes.'' Now, this wasn't just annoying because he'd called me fat, but it seemed a bit creepy for this mature person, holding high office, to keep an eye on me. Kind of creepy. "What did he say?'' asked the two standing with me and I just blabbered it out. "You should have told him he's losing his seat!'' "Yes, Sunetra, you were too polite.'"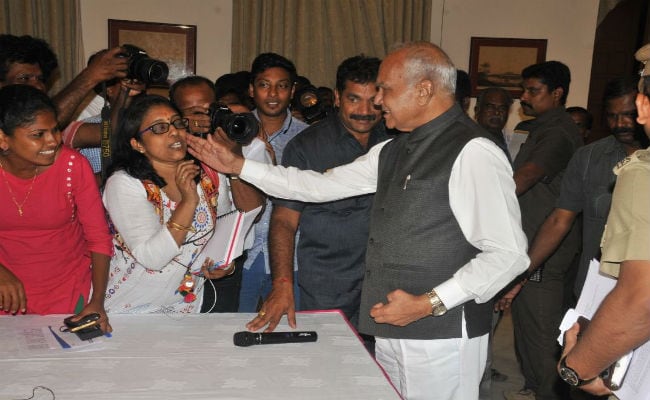 ​I've never been one with the quick repartee, and so, after some staring in the mirror for signs of excess, I went back to my usual life. But with His Excellency's transgressions, I called up other journalists friends and the stories came pouring in. Take, for instance the first question which only women face. If you're a man, they don't care how many wives, mistresses or children you have, but if you are a woman, you will be asked one question by every single official contact you meet. "The normal foreplay,'' said my witty friend who had the clever but unsaid by me retort for the minister above, "is to ask - 'ghar pe kaun kaun hain (Who do you have at home)?' They use this to figure out if you are single or not.'' You want to say none of your business, mister, but you usually tell them, or if you are living with a man but not married, you hedge. Believe me, you don't want to assert or explain your independent choices when all you're looking for is details for your story.
"They always want to know why I'm not married,'' said my 40-something friend. "They don't understand why I choose to be single. They are the top-most officers, Sunetra, but they keep asking me this.'' This other colleague tells me of the time when she went for a shoot that involved defence personnel. She was in her 20s, and apparently, the coordinating officer after some polite conversation, asked for her father's number. When she asked why, he said - "I have a son who is 24 and I'd like to ask your father for your hand.'' She wasn't sorry at all to inform him that she was already married.
It seems to all stem from the fact that the men who occupy positions of power are still very, very unused to seeing women as their peers. They can only relate to them as wives or potential daughters-in-law, or just a piece of flesh to admire or shame. They admire Hema Malini's smooth cheeks, and shame Renuka Chowdhary's excess weight. And so the inappropriate words and behaviour continues unfettered in its daily occurrence.
I reported with a huge belly when I was nine months pregnant, but nothing made me more awkward than a politician who met me at a social event, reaching out for my swollen middle to say "I see you are in your full glory.'' Again, I said nothing. One politician recently declared my name was too difficult so he was going to call me "Dimple". My friend later said, "Why didn't you say to him, ok, then I will call you pimple?!" I laughed but hadn't said nothing because I didn't care what he said as long as I got my story.
My friend was propositioned in the middle of a discussion about Indian diplomacy when her contact in his office looked at her and flatly said to her, "I'm thinking of having an affair.'' She also said nothing.
Male journalists I know talk of a former minister who touches them inappropriately by fondling their ears. But they say nothing.
It's because we are all too busy telling other people's stories, other people's pains, other people's lives. We will continue to do that but just now and then, isn't it great when one of us says - enough?
(Sunetra Choudhury is Political Editor, NDTV.)
Disclaimer: The opinions expressed within this article are the personal opinions of the author. The facts and opinions appearing in the article do not reflect the views of NDTV and NDTV does not assume any responsibility or liability for the same.
Get the latest election news, live updates and election schedule for Lok Sabha Elections 2019 on ndtv.com/elections. Like us on Facebook or follow us on Twitter and Instagram for updates from each of the 543 parliamentary seats for the 2019 Indian general elections.