"
Janaani
" in Punjabi is a gossipy woman who half-listens, instantly adds some bitchy masala, and then passes on the information to another keen consumer. Karan Johar increasingly reminds me of one. Not just that, there also seems to be something of a school bully in him, the powerful rich boy always needy for support from his band of brothers, who are ever-ready with having his back. Like at the IIFA.
A quick disclaimer: I am not a Kangana Ranaut fan, her rags-to-riches story cannot be milked anymore, how her affair to remember or not made her a feminist icon is still beyond me, and the one thing I agree on with Karan Johar is that she has abused the victim card. But the actress is also the winner of three national awards and more importantly, unlike the filmmaker, when she levels a charge, she does so to the face. Literally.
As an ambassador of our entertainment industry, while taking part in a global event like IIFA, Karan Johar should have remembered to carry not just those shiny golden shoes but also some dignity. "Nepotism Rocks" gave him partners-in-satire Varun Dhawan and, uncharacteristically, the Nawab of Pataudi Saif Ali Khan. They giggled churlishly like a bunch of school boys who had just read a girl's secret diary in "
Student of the Year
"! Saif Ali Khan participating in something like this was particularly disappointing, one expects a little more
tehzeeb
from him.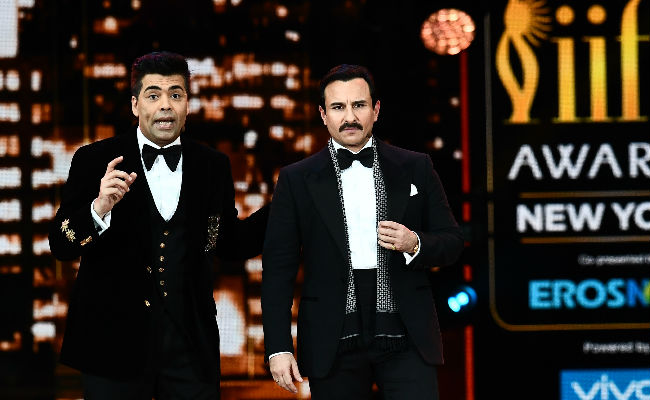 Johar's ego on the other hand, seems to have been scarred for life by Kangana after she called him the 'flag bearer of nepotism' on his own show. While most of us have moved on from that controversy like a Friday release, the filmmaker was only biding his time. There is talk that he reportedly planned and directed this whole charade while the other two had no choice but to play along. Why not spend that sense of bravado in casting Fawad Khan again? Maybe not Kangana, but a lot of other women will forgive him!
If the show in New York had been vaguely presentable, perhaps some of this
tamasha
may not have created such a furore. Silly stunts and calling an actress' dress a tent or a "2 BHK apartment" are certainly not the mark of a world-class host, nor does it help Bollywood's stereotypical loud image on the international stage. But then the USP of all our award shows is humour that is crass and jokes that make us cringe.
Maybe the rest of it wasn't Johar's script but it certainly was his show. When a movie like "
Dangal
" is not even nominated and the Bachchans who were once seen as the mascots of IIFA have long left the building, it's easy to see whose party this is. So many faces in the audience are women on the periphery of Bollywood without a movie role in years, yet omnipresent at these award functions.
Varun Dhawan was quick to realize his stupidity and apologized. But for Johar's
dil
that appears to find it easy only to apologize to the Thackerays, this seemed to be
mushkil
. Maybe he had a change of heart or perhaps it was the massive backlash, but much delayed, the filmmaker,
in an interview with NDTV has regretted his behavior
.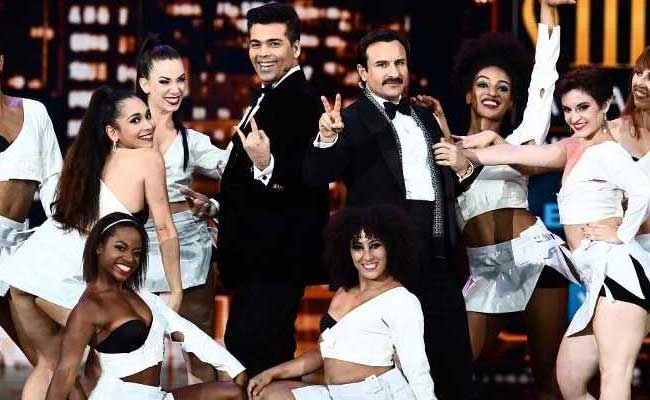 Karan Johar may be Bollywood royalty but he is not gutsy - no bully is. Like the Congress, he is forever big on his coterie - we can't stop hearing about how Twinkle Khanna was in his school or how he mentored Alia Bhatt. Sure, nepotism exists even in our daily lives, but very few insist on blowing it up for appeal or trying to bring down someone who climbed to the top the tough way.
The first season of "
Koffee with Karan
" was entertaining, SRK was always on the couch and Kajol's loud laugh drowned much conversation. She isn't in the picture anymore and lately Johar seems to be making his own Trump moments as he reveals family secrets and does what he came out to do - cause misunderstandings.
The
koffee
is cold because the joke is on Karan Johar and Kangana is having the last laugh. She is back in the headlines even without a movie release - what more can an actor ask for? The filmmaker has given her a super-hit.
(Jyotsna Mohan Bhargava worked with NDTV for more than a decade and now writes on a variety of topics for several news organisations.)
Disclaimer: The opinions expressed within this article are the personal opinions of the author. The facts and opinions appearing in the article do not reflect the views of NDTV and NDTV does not assume any responsibility or liability for the same.