On November 10, I interviewed the wife of a villager who was killed in Chhattisgarh's Bastar district. Vimla Baghel told me that she had not named Nandini Sundar, who teaches at Delhi University, or Archana Prasad, a professor at Jawaharlal Nehru University, for her husband's death on 4th November this year. The state police has charged both women in a case of murder and criminal conspiracy along with Naxals.
Five days after Delhi University Professor Nandini Sundar was named in a case of murder by the Bastar police, I decided to track down the widow whose testimony had allegedly led to the charge. Vimla Baghel watched on November 4 as her husband, Shamnath, was killed with a sharp weapon outside their small home. The police said Vimla had testified that the Naxals who murdered him said he was paying with his life because he had ignored the advice of professors like Nandini Sundar who, on visits to the area (she is among activists documenting and campaigning against human rights atrocities in the area), had tried to incite him against the cops.
Sukma is in the heart of Naxal-dominated Bastar; I headed there from Bhopal, which is some 1,200 kms away.
Day 1 included a 12-hour train journey and a six-hour drive. The next day, on November 10, we headed for the Nama village, where Vimla Baghel lives, 100 kilometres from where we spent the night. As we got closer, the
pukka
road vanished and our driver maneuvered our car through muddy rocky tracts to reach Nama. This village is known in the area for backing the police against the Naxals and even has its own vigilante group. Our arrival made them uneasy, I could sense their unrest. After answering their questions, we were guided to Vimla's house.
It was nearly 2 pm. The bereaved family was outside their mud house, just a few feet away from where Shamnath was killed a week ago. Vimla, who had delivered their sixth child just 48 hours before the murder, was sitting on the ground with her 4-year-old daughter Kanchan.
After a cautious response to introductions, Vimla agreed to speak to us.
The 28-year-old widow told me that her husband had belonged to an anti-Naxal team called the Tangiya (axe) Group. On the night that he was killed, Shamnath, who generally used to sleep with other group members in a part of the village used to guard against Naxals, came home to help her baby-sit their brand-new son. Around 9 pm, she said, Naxals started knocking at her door and finally barged into the house, unhinging the door. At gunpoint, they dragged Shamnath out and asked her to stay inside. Within a few minutes, Naxals killed Shamnath and left without uttering a word, she said.
There were 15 shadowy figures who were armed, she said, adding that she could not see their faces because torches were being flashed in and near her face. She said none of them mentioned Nandini Sundar or the others mentioned in the police's FIR. We recorded this on camera with her permission.
I took out my cell phone to show Vimla the police statement that was attributed to her - one that offered a totally different account from what she had just shared with me. I was then interrupted by four men who suddenly reached the house. One of them told me that his name was Aeta, that he was a member of the Tangiya Group, and that I should not have entered the village without getting the police's permission. He also said that the villagers had been told by the police not to talk to the media. By this time, more men with axes, bows and arrows and sharp weapons started assembling at the house and the men then warned us that unless we left immediately, there would be consequences.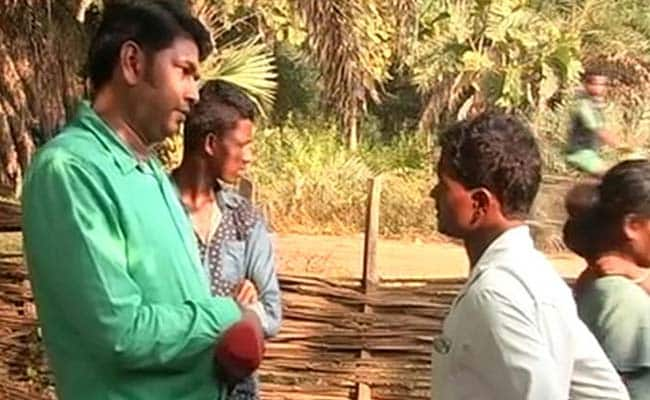 Vimla who was standing right next to us now moved away. But she and her family stood at a distance and watched us as other villagers were threatening us.
On our way back, we decided to stop at the nearest police station in Tongpal, where the FIR was lodged. Inside the highly-guarded police station, we met the Station House Officer or SHO, who appeared shocked to see journalists in his precinct. I asked him for for a copy of the FIR, and he refused. But when I showed him a copy of Vimla's statement as released by the police, he corroborated that the one-page document was the basis of the murder charges. He then wanted me to explain who I had met and spoken to, where I was staying.
As we left the area and reached Jagdalpur, local journalists warned that the police and a local group that recently heckled activists who visited the area now know about our presence in Bastar and we may be targeted.
I travelled to Kanker and we then carried Vimla's interview on air.
Bastar is not new for me. In the last five years, I have travelled to its remote areas over a dozen times to cover the hardship of our jawans who are fighting Naxals, the plight of the villagers living in the area. But this time, it was different - things have changed, journalists are now being watched by both sides, the Naxals as well as the police. And reporting from this part of the country has become even more challenging.
(Siddharth Ranjan Das is NDTV Correspondent based in Bhopal)
Disclaimer: The opinions expressed within this article are the personal opinions of the author. The facts and opinions appearing in the article do not reflect the views of NDTV and NDTV does not assume any responsibility or liability for the same.