That voice.
My best memory of her is of her practicing her singing during long summer afternoons at home. Not a day went by when she did not practice. She would gently tune the
tanpura
, her graceful fingers running over the strings. She had the most beautiful hands, and the way she would move them or bring them together while singing was a wonderful sight in itself. She would close her eyes and almost seem to resonate with the vibrating strings of the
tanpura
. Only after that would she hand it over to the person behind her, and begin.
That voice.
It would fill the heavy afternoon air and wrap itself around you and in you. In that moment, she was MS Subbulakshmi, a legend, an icon. When she would finish, it would be like she had woken up from another plane of existence and returned to the reality that included us. She would flash her wonderful smile, and she would be my grandmother once again.
My father was by blood the grand-nephew of Sadashivam, my
thatha
or grandfather and Subbulakshmi or
patti
. While he moved into their household when he was a baby, he was formally adopted when he turned 13. There was a huge-inter generational gap between her and me, which forbade a more informal relationship. But she was very affectionate and always a wonderful presence to be around. There was something about her that seemed so pure and so childlike that I always enjoyed meeting her. We would go over for either lunch or tiffin, and on entering, I would greet her with a hug; just before leaving, I would have to go to the
puja
room with her and my grandfather, offer a prayer and a formal
namaskar
by touching their feet for their blessings; then I would leave with the
prasadam
.
On getting older, I witnessed much discourse among adults of the family and outside that was about deconstructing her mystique. She was a young shy girl from Madurai who filled the world with her voice. Born to the
devadasi
tradition, she was determined to not live as one with her patronage dependent on the whims of a man. On coming to Madras as a teenager, she performed and acted in movies, had a full life and was establishing herself as a woman of great talent. When she met and married my grandfather, she took on a mantle of Brahminrespectability that she had perhaps craved all her life. India, while in the throes of flux with the independence movement, was still entrenched in a certain patriarchy of gender and caste that restricted agency to women. This was really strong in the field of the arts. Carnatic music at the time was the domain ofBrahminmen, and her sheer talent and presence transcended that in a way never seen before.
Kishori Amonkar called her the
"aathvaan sur
", Lata Mangeshkar called her "
tapaswini
", Bade Ghulam Ali khan called her "
Surswaralakshmi Subbulakshmi
" and Sarojini Naidu conferred upon her the title of "the nightingale of India."
It was her movie Meera that catapulted her to national fame in 1947. The Hindi version was released in Delhi by Sarojini Naidu and it moved Nehru to say, "Who am I, a mere Prime Minister, before the Queen of Song?" Both my grandparents were active in the freedom movement. My grandfather more so than my grandmother, even having been arrested and thrown in jail by the British for a while. My grandmother's performances would generate money that would go towards the freedom movement and the Kasturba Foundation. In 1947, just a few months post-independence, my grandfather received a call asking for my grandmother to sing one of Gandhiji's favourite bhajans and send it to Delhi. My grandfather said that they were unfamiliar with the
bhajan
and would not be able to do it justice, and could perhaps another singer sing it. They promptly got a call back from Gandhiji, who said he would rather have Subbulakshmi speak the
bhajan
than have anyone else sing it. So overnight they recorded "
Hari Tum Haro
" and sent it to him. A few months after that, in the new year, while listening to All India Radio for the news, as she did all her life, she heard the announcement of Gandhiji's assassination, after which she heard her own voice singing
Hari Tum Haro
- distraught, she fainted. Even years later, she would always choke up and cry when narrating the story. In her lifetime, she would hear that
bhajan
played twice more after assassinations - after Indira Gandhi's and Rajiv Gandhi's deaths, right after the announcements on All India Radio.
She was the first Asian musician to receive the Ramon Magsaysay award for charity work. All her life, she and my grandfather gave away all their money earned from concerts to various charitable organisations. Both of them believed that her musical ability was divine and could not be monetised. She believed herself to be just a tool of god channeling blessings through her songs. The wonder of it was when she sang, she could take us, her listeners, into a plane so divine it made us feel we were glimpsing something extraordinary. In South India, her picture hangs with pictures of various gods and goddesses in
puja
rooms.
She was also the first Indian musician to perform at the UN General Assembly and one of the first to take Carnatic music abroad.
But through all of that, she remained a shy simple person, still excited when anyone went up to her and told her how much they loved her music. I remember her as someone who disliked any kind of rude behavior. Injustice and violence hurt her personally, and she hated anger and confrontations.
In the years that I was a dancer, she came for every single one of my performances and would sit in the front row and keep rhythm. I would try and block out the fact that she was there because my nerves would be shot. I had the honour of escorting her to Rashtrapati Bhavan when she was awarded the Bharat Ratna, and I remember her as both happy and sad as by then my grandfather had passed away.
My last picture of her in my head is of her very frail body in a hospital bed giving my hand a slight squeeze the day before she died. The picture I prefer is the one with of her with her great smile and the flashing diamond nose rings, one of which I received after she died. With her music that I still listen to almost on a daily basis, I feel her presence strongly.
In every generation, they say, comes a person who shakes everything that was held true up until then and fills imaginations in a way they have never been inspired before. My grandmother Subbulakshmi was one such person.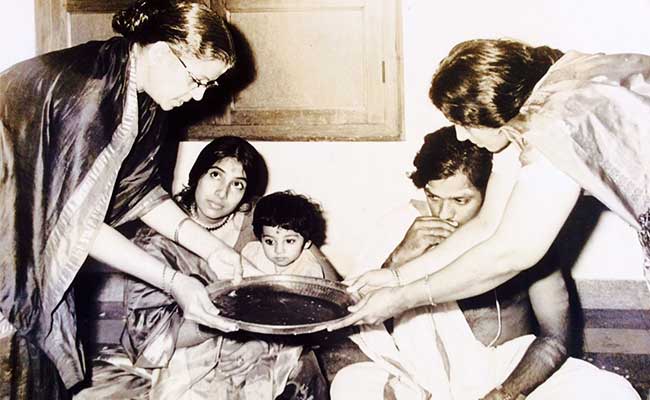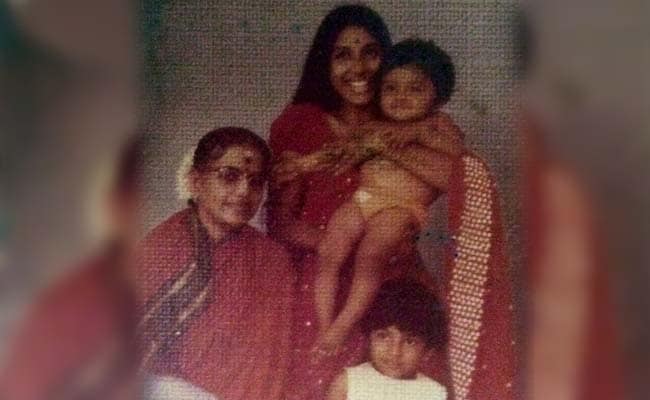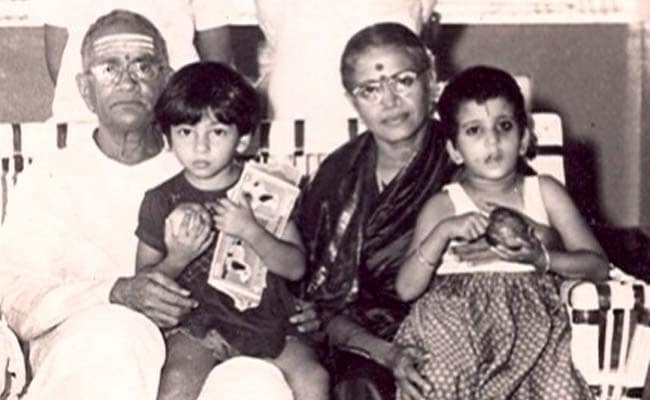 (Swati Thiyagarajan is an Environment Editor with NDTV)
Disclaimer: The opinions expressed within this article are the personal opinions of the author. The facts and opinions appearing in the article do not reflect the views of NDTV and NDTV does not assume any responsibility or liability for the same.