Patna:
The door to Suite 401 of the Maurya hotel in Patna stays open well into the night for visitors. They come in a constant stream to meet the "Son of Mallah."
He is a man who, not long ago, was organising the sets for blockbuster Hindi film hit
Bajrangi Bhaijaan
and managing events for the likes of the Ambanis.
Today, Mukesh Sahni is the emerging face of Bihar's caste-dominated politics. He calls himself the "son of Mallah or boatman", and has pledged to consolidate the backward Nishads into a force that cannot be ignored by any political party, ahead of the
October-November polls
.
"Don't worry, your views will be taken into consideration before we decide who the Nishads will support in these elections," the 34-year-old assures a group of people from Purnea belonging to his Mallah community.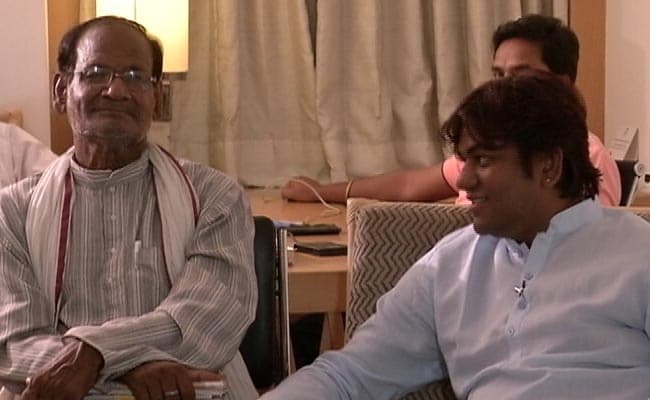 "Nishad" is a collective identity for more than 20 sub-castes - including Mallahs - whose livelihood was traditionally linked to the river.
Before he can be asked any questions, Mr Sahni points to a YouTube clip tracing his political journey. It opens with a line he uses in all his speeches: "I don't want to go to the Rajya Sabha or the Lok Sabha, not even the Vidhan Sabha, but I want to send my people to all three. That is why I have returned from Mumbai."
At 18, Mukesh Sahni escaped the grinding poverty of his family in Bihar's Darbhanga to look for work in Mumbai. He struggled for years before he could gain a foothold in the world of films.
Today, he has produced a film and runs a successful event management business. "My Company has done a lot of work in Bollywood. We did all the sets for
Bajrangi Bhaijaan
and we do events. When there is an event at Ambani's home, my company organises it but now I want to use my energies to help my community," he shares.
In the last six months, Mr Sahni has been on a Rath Yatra, or a chariot campaign, across Bihar, traveling to towns and villages to mobilize his community. "I learnt that the Nishad identity includes 23 sub-castes, 55 titles, and in 8,600 Panchayats of Bihar we are more than 11 per cent of the population. Yet my people have no political representation while there are two Rajput ministers in a state where their population is only four per cent."
He adds: "I need my people to come together and become a vote bank no one can ignore."
He says his inspiration is Lalu Prasad Yadav, the man who he says "turned the world around for the Yadavs."
The BJP, he comments, let him down. "In the last elections, we met BJP leader Mangal Pandey and gave him our three conditions, the most important was that the Nishads be given ST (Scheduled Tribe) status. He agreed to all our conditions and said the BJP would support them. So we put out an appeal to our community to vote for the BJP candidates. Sadly, once they won, they never even bothered to pick up our phone calls."
This time, Mr Sahni says he will not disclose who he will support. But he does say that after his rally on September 4 at the Azad Maidan in Patna, Chief Minister Nitish Kumar called him and promptly sent a letter to the Centre, asking for Scheduled Tribe status for the Nishads, which will win them quota.
At the same time, he tells us that he'll be camping in Delhi for a few days, for negotiations with the BJP's Amit Shah. "I'll work for the best deal for my community," he promises.
Mr Sahni's claims have yet to be fully tested, but in a closely contested election, the 30 per cent extremely backward caste vote will be critical. The Nishads form the largest and strongest part of this category - one that, for now, every political alliance is fighting to score.