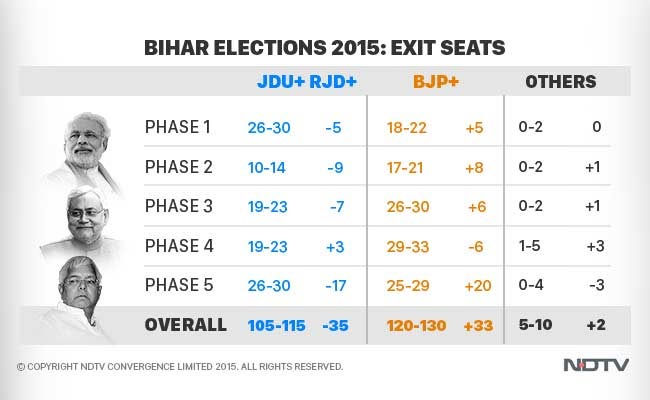 New Delhi:
The NDTV Exit Poll for Bihar shows the BJP and its allies winning the state.

The forecast for 243 seats:

BJP+Allies 125 SEATS

Grand Alliance 110 SEATS

The poll had a massive sample size of 76,000 people in all 243 constituencies, the sort of population usually sampled for a national election. READ: Details of NDTV'S Exit Poll
"Your exit poll shows Bihar has voted for change," said Union Minister Ravi Shankar Prasad to NDTV.

Pavan Varma, a leader of Chief Minister Nitish Kumar's Janata Dal-United, however, said: "Your exit polls are wide off the mark."

Bihar voted in five phases starting in October and ending earlier this week; the results will be counted on Sunday.

Prime Minister Narendra Modi campaigned extensively for his party's alliance. Chief Minister Nitish Kumar combined with former rival Lalu Prasad and the Congress in an attempt to block the BJP from leveraging the PM's popularity.


Older voters and women supported the Grand Alliance, according to the exit poll. Young voters supported the BJP.
The Grand Alliance, in four of five phases, lost significantly compared to the 2014 general election. Phase 5, with 57 seats in areas like Seemanchal with a high Muslim population, showed a strong swing away from Mr Kumar and Mr Prasad. The BJP nearly tripled its score in this region compared to the last national election - it gained 7 to collect 27 seats. Nitish-Lalu's alliance lost a whopping 17 seats here according to the exit poll.
Though the BJP has said it does not agree, the Bihar vote is being viewed by many as a referendum on Mr Modi's premiership after he addressed at least 30 campaign rallies.
Bihar, home to 104 million people, is India's third-largest state and a result in his party's favour will boost Mr Modi's chances of building the parliamentary strength he needs to push through reforms. The government is in a minority in the Rajya Sabha, which is selected on the basis of parties' strength in state assemblies.
But the Bihar election is seen as a barometer of many key issues shaping Indian politics including the changing roles of caste and religion and the rising aspirations of a young population.
Mr Modi's campaign started with a message of economic development but, as the race tightened, the BJP's campaign was accused of shifting to religious and caste alliances in a region where these have been dominant themes. Beef-eating, for example, took a lead role as a campaign issue towards the end.