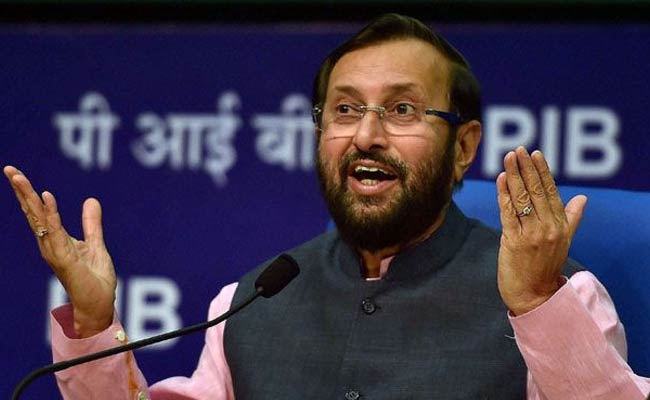 New Delhi:
BJP today expressed confidence of victory in the Bihar assembly poll for which vote counting would be taken up on Sunday and claimed people have voted for the development agenda of Prime Minister Narendra Modi.
"We are absolutely sure of our win in Bihar. Women have voted in large numbers. Poor want development and they have confidence in Prime Minister Narendra Modi's leadership. Different exit polls have come but they are not exact polls. In less than 24 hours, we will know the exact poll. We should wait for it," Union Minister and senior BJP leader Parkash Javadekar told reporters.
Counting of votes in the high-stakes Bihar assembly elections, billed as a hot battle between Prime Minister Narendra Modi and Chief Minister Nitish Kumar, will take place tomorrow. The counting for the 243 seats of the assembly will begin at 8 am and the verdict for a majority of seats is expected by the early afternoon.
Most of the exit polls have predicted a close contest between the BJP-led NDA and the Grand Alliance of JD(U)-RJD- Congress with a slight edge to the Chief Minister Nitish Kumar-led grouping.
Referring to the win of some of the BJP candidates in Kerala civic polls, Mr Javadekar said that the politics in the state is changing and BJP has become an important factor in it even as he expressed confidence of performing much better in the forthcoming assembly elections.
He said that the party is happy that the Kerala voter has come out of "jinx" and has preferred BJP at many places as he referred to the victory of BJP candidates from Thiruvananthapuram and Thrissur in the civic polls.
"We were absolute zero but our numbers have swelled to a very recognizable figure. This is the indication of shape of things which is coming in Kerala. Kerala politics is changing forever and BJP will become an important factor," he said.
Observing that recently nine MLAs have joined BJP in Assam while the party has won the Leh Hill Council elections, Mr Javadekar claimed that from Leh to Kerala to Assam - all corners of country and central India, BJP is on winning spree.
"Congress is getting decimated and going downhill. There is a major change that is coming in the political landscape in India. In Kerala earlier they were constrained to vote for BJP as it was so bi-polar - two alliance politics, now they hope that third pole has a place in Kerala politics which is BJP," he said.
Asked how the party will perform in the forthcoming assembly elections, the Union Minister said, "BJP will not only open account in Assembly elections but also perform much better. Next six months will be the churning period in Kerala politics and in Kerala you will have a third pole in the form of BJP," he said.
Asked about the announcement of the Winter Session of the Parliament, Mr Javadekar who also holds the Environment Ministry said, "It will be announced in due course. We hope it will be successful and collective wisdom will prevail.
"People have given their verdict and nobody can be intolerant to people's verdict. We are not waiting for Bihar results. We are waiting for the meeting and immediately will announce the dates," he said.