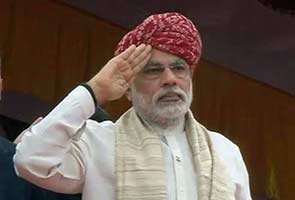 Bhopal:
The BJP will charge its party workers Rs 5 per head to attend a mass meeting that its Prime Ministerial candidate, Gujarat Chief Minister Narendra Modi, will address next week in Bhopal, the capital of election-bound Madhya Pradesh.
The highlight of the meeting will be BJP veteran LK Advani sharing the stage with Mr Modi, for the first time after the party named the Gujarat Chief Minister its presumptive PM, over-riding strong objection from Mr Advani.
Also on stage will be chief minister Shivraj Singh Chouhan, who Mr Advani has often projected as Mr Modi's equal as an efficient administrator.
The event on September 25, is being called the '
Karyakarta Mahakumbh
'. "We have charged Rs 5 per member for entry passes. Nearly seven lakh BJP workers are expected to attend," the state BJP's campaign chief Anil Madhav Dave told PTI today.
He clarified that there would be an entry fee only for BJP workers and not for citizens who might attend to listen to Mr Modi's address.
Mr Dave said that 20 booth level BJP workers each from the 53,000 polling booths in MP have already collected their entry passes to attend the function. That is Rs 53 lakh in the kitty already.
He also sought to make a distinction from a programme in Hyderabad in August, where the BJP collected Rs 5 from all those who attended a Modi meet to contribute towards relief in flood-torn Uttarakhand.
"People are confusing it with the Hyderabad programme where Rs 5 tickets were sold to the public during Modi's meet, but here it is purely for booth-level BJP workers," Mr Dave said.
Local Congress leader Rameshwar Neekhra criticised MP Chief Minister Shivraj Singh Chouhan for fixing the value of its Prime Ministerial candidate at merely Rs 5.