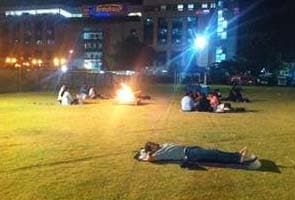 Bangalore:
Imagine having no home, no roof over your head.
Hundreds of people in Bangalore - mainly from the IT sector decided to understand that feeling better by spending a night out with a difference. As part of the national 'Under the Stars' campaign to raise awareness about the plight of the homeless, they gathered at the Ascendas cricket ground in Whitefield in the city - in the heart of the city's IT belt.
This is a prosperous community - and the event was an attempt to raise awareness about how millions of their fellow Indians live.
One young IT employee told us she was feeling cold after just a couple of hours - and wondered how people could spend the night in the open on a regular basis. Another said she had so much - she now wanted to share with those in need.
There was music at the event - something lacking from the lives of those who live under the stars simply because they have no choice. Bonfires were lit as the well- heeled campers settled down for the night.
Money raised at this event will go to NGOs working in the field of supporting the homeless.