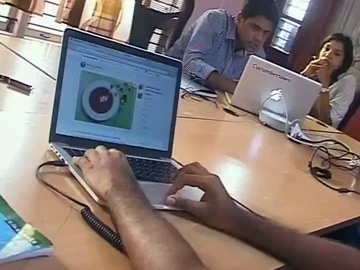 Bangalore:
With costs of setting up start-ups becoming a challenge in the erstwhile capital of the Bay Area in California and given the barriers to immigration and cost of talent, is Bangalore becoming the new start-up capital of the globe? Every month, nearly 10 new start-up companies are set up, and projections indicate that in the next decade, Bangalore could capture the position of being the technology start-up capital.
The focus of newer companies has quickly shifted from service based to product based - a sector that is fast evolving. It is both high risk and high reward. There are on an average seven to nine new start-up companies being set up in Bangalore each month, most in the information technology, e commerce and gaming sectors. Nasscom recently set up a platform to welcome nearly 10,000 start-up companies over a period of one year from January 2014 to January 2015.
28-yr-old Narayan Babu, for example, with his friends who also happen to be his colleagues, is just back from Google's meeting in San Francisco where their latest creation has got a standing ovation. After creating 'Iris' for Android phones, a direct competition to Apple's innovation 'Siri' in 2011, his thee-year-old start-up in Bangalore is ready for more. Their famous apps like 'Friday', 'Dialap', 'Knock' are among the top sellers with over a million users. The engineer chose an 'upgrade' on his resume from an employee to a CEO.
"The first question investors used to ask us is "were you working with Google, do you have a degree from MIT, IIT, how do we validate you? So initially we were always having to answers these questions. Everytime we tried to do a partnership or raise investment, it was tough as a start-up. Until Iris changed everything for us," said Narayan, CEO of Dexetra.
29-year-old Cherian, another CEO of a million dollar company quit his high-profile job in the valley in the US to start his own company. He works out of a room in his home cum office with three others. Cherian Thomas is the founder of a social media site for cooks across the world to view and put up their own recipes. Within 2 years, there are 100,000 active users and the passive ones are five times that figure.
"Taking our service company to billion dollars takes a lifetime. Infosys took so much time, you know. But you saw Pinterest. It went to $5 billion dollars in four years. Companies like us can capture billion-dollar markets in two and a half, three years' time. Once we go viral, there's no stopping us. We are growing so fast that I fear letting my staff go on vacation because what if things change by the time they are back" said Cherian, Founder and CEO of Cucumbertown.
Young entrepreneurs like Cherian say the cost to set up a company was a lot more expensive about 10 years ago. Now they could be doing away with steps of hiring an administration person, legal advisor, accountant and even a commercial space to work out of. All you need is a bright brilliant idea.