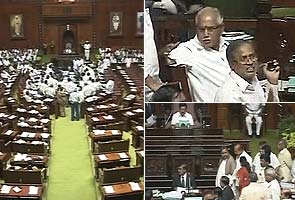 Bangalore:
The Congress in Karnataka on Monday threatened to hit the streets if the BS Yedyurappa led Bharatiya Janata Party (BJP) government in the state is not dismissed immediately.
"We welcome the governor's move ," state Congress president G. Parameshwara told reporters here refering to the recommendation to the central government to impose Presiden't rule in the state.
"If the corrupt BJP government is not dismissed, we will organise a statewide agitation. We have already alerted all our district units to be ready for the agitation," he said.
Parameshwara said the Congress party has been seeking dismissal of the B.S. Yeddyurappa government as "it has been indulging in corruption, illegal mining and various scams".
Bhardwaj had late Sunday sent "a special report" to President Pratibha Patil on the developments in Karnataka following the apex court verdict restoring the membership of 16 rebel legislators including 11 of the BJP and five independents.
The report was sent after 10 of the 11 BJP legislators had expressed 'unconditional support' to Yeddyurappa.
Though Bhardwaj has not made public his report, Yeddyurappa -- apprehending dismissal of his government -- wrote to President Pratibha Patil, urging her to "reject the unconstitutional move" of Bhardwaj.