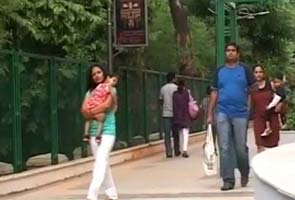 Bangalore:
There was more than one disappointed Bangalorean when the boulevard that ran alongside the bustling Mahatma Gandhi road was demolished to make way for the Bangalore Metro.
Uma Maheshwarnan, who used to work in the State Bank of India in Bangalore back in the 1970s told us, "For four years, we used to come daily here and roam here - because we love Bangalore, we love this place so we used to come daily."
But the boulevard is now back - in a new version that seems to be striking the right chord.
The Bangalore Metro Rail Transport Corporation, the BMRTC, had promised it would be back in a new avatar. And this new reinvented space also has the seal of approval of the residents of this bustling metropolis.
The upper walkway is a place where people can saunter and take in the view, while the traffic zips by on the Mahatma Gandhi road below.
The lower walkway has an activity hub called Rangoli that houses a museum of photographs of Bangalore in the past. This is a draw among the resident whoare amazed at the transformation the city has gone through. "It is nice to have an idea of what was it before and what it is now, " says Manjima, a resident.
"I think the response is really great. Because it's not just the space to walk and see, but it's also a lot of information about the city," says Surekha, curator of Rangoli.
Several artisans also give demonstration of their craft here, and it also has a play area for children that is abuzz with activity on weekends.
"I think we will try to come more often now because we can shop and she (daughter) also can spend some time here playing. If they had taken away something from us, they have given back what we wanted," another visitor, Rekha, said.
It is something every bustling modern city needs - safe and friendly public spaces where people of all ages can just come and relax. Now, thanks to this walkway, there is one such space in the heart of Bangalore.