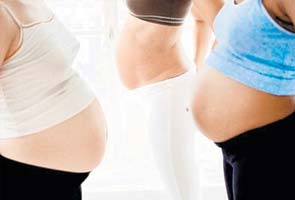 Bangalore:
Bangalore might be making headlines as its first official surrogate baby is set to join his legal parents in the USA this weekend, but city officials refuse to accept this trend and a war of words has broken out between the medical fraternity and Bruhat Bengaluru Mahanagara Palike (BBMP) officials.
While the medical fraternity has been fighting a battle of morals to attain legal status and acceptance towards surrogacy, Deputy Mayor of BBMP, S Harish has lashed out at those popularising the trend, saying it is unhealthy and alien to the country. According to Harish, girls and boys are being influenced by the trend and are forgetting their culture.
Rented wombs are not only gaining acceptance within the country, but are also attracting foreign couples. Senior doctors from the industry are claiming that the trend has put the city on the global map for healthy surrogacy.
Benefit to some
"This will help women in the city become financially independent. We deal with women from cross sections of society and those in need can be bailed out of their monetary troubles if they take it up," said Ben Hur Samson, CEO, Surrogacy Abroad Inc.
He added that surrogacy is being dealt with in two ways. Samson said, "There is a partial and a full surrogacy. Usually, single parents, infertile couples or even gay couples approach a surrogacy firm for a child or to rent a womb. A surrogate mother, who accepts, is paid Rs 2 lakh and Rs 3,000 per month for upkeep till the date of delivery," said Megha Kumari, a senior executive from the firm.

'Unhealthy trend'
With over 10 legal IVF and surrogacy firms and outfits operating within the city, the trend has been mushrooming in a discreet way. However, the bigger issue the city now faces is the number of illegal surrogacy houses, which are coming up.
Lashing out, Harish said he would personally visit these firms and then decide on their fate.
"This is not a baby factory and we should not allow this trend to grow. It is spoiling the thinking of the youth, and they are being encouraged to go against our culture. I'll personally visit such hospitals in the city and check all the legal documentation. The trend is unhealthy and an alien and Bangaloreans should reject it," he said.
Earlier, Harish had a long-standing tiff with the Shrusti Charitable Trust, an organisation dealing with surrogacy. The trust had accused Harish of harassment and he in turn challenged them to produce official documents for conducting operations, which they allegedly failed to do.
Rs 2 lakh
Minimum amount that a woman is paid to become a surrogate mother

Rs30, 000
The amount that a surrogate mother is paid per month for upkeep till the delivery

Big money, baby
>> Surrogacy is a $US 2.8 billion trade across the world
>> Each surrogate mother is insured before her womb is rented
>> Each mother is paid $US 6,500 per delivery
A way out?
A local hospital recently delivered a yet to be named boy baby, who will be flown to the USA. The baby was delivered by a surrogate rented by Charles, a single parent from US, who is a presently in Chennai getting Visa for the baby. The surrogate mother Prabha, who works in a garment factory, opted to be surrogate to clear personal debts.