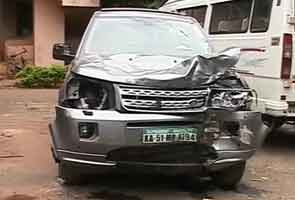 Bangalore:
The driver of the SUV, who allegedly mowed down four people, including two women, and inured six others on Monday has surrendered in a Bangalore court. The accused is 60-year-old Krishnappa, who was the president of the Bommanahalli city municipal council till 2009. He used to live alone in the civic ward after his wife and daughter deserted him over a family dispute.
Of the four victims of the hit-and-run case, two were vendors selling vegetables on cycle-carts by the road side and two were their customers. Among the injured, four were pedestrians on the footpath and three were standing nearby.
"According to one of the injured, the accused came out of the mangled car (a Land Rover) and walked away from the spot instead of taking the victims to a nearby hospital," Deputy Commissioner of Police (Southeast) BS Lokesh Kumar said.
The victims were identified as Indrani (40), Pusparani (45), Basavaraj (30) and Vijaya Nayak (35).
The injured were taken to a nearby private hospital by passersby.
"An eyewitness told our patrolling party that the accused was recklessly driving the car at high speed and was under the influence of alcohol. We have formed three teams to investigate the case and trace him soon," Mr Kumar said.