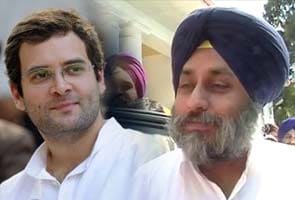 Chandigarh:
For the first time in the last forty years, Punjab gave a second consecutive term to a party in power. Shiromani Akali Dal's (SAD) Parkash Singh Badal will take oath as the Chief Minister of Punjab for a fifth time on March 14. Today, his son Sukhbir Singh Badal taking a dig at Rahul Gandhi said he will encourage the Congress General Secretary to campaign more.
"Wherever Rahul Gandhi goes, Congress loses...we will encourage him to campaign more," said the SAD president.
The Congress, in Uttar Pradesh, where Rahul had turned the revival of his party into his personal mission, could only add six seats to its earlier total of 22. The added insult comes from Rae Bareli and Amethi - the constituencies of Mr Gandhi and his mother - where the Congress took just two of the 10 assembly seats at stake. Priyanka Gandhi had campaigned extensively in this area and had promised her mother publicly that she would deliver all 10 seats.
Not just UP, Punjab was a disaster for the Congress too. The Congress, which had hoped that the anti-incumbency habit in the state would push it into government, was, however, left with just 46 out of 117 seats. The Congress candidate for chief minister, Captain Amarinder Singh, had predicted his party would defeat the Akalis. He won his seat, but his son, Raninder Singh, lost his constituency.