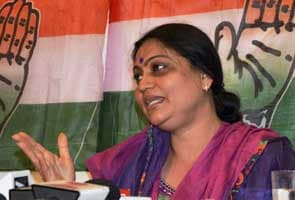 Ahmedabad:
In Gujarat Chief Minister Narendra Modi's stronghold of Maninagar in Ahmedabad, there is excitement as his challenger enters the one pocket that he has neglected. With drum beats, firecrackers and rose petals, the Congress workers pull out all the stops, knowing this is a rare occasion.
"No one has ever come to our neighbourhood in the past 15 years. So this is the first major political activity for many in this neighbourhood," says a breathless Maryam Ben Ajmeri, a local Congress worker.
"I'm told she is a housewife like us and she has the courage to take on Modi; so we want to see this woman," says Haseena Bano, a mother of five, who adds she doesn't really understand politics.
As she steps out of the car, with just two bodyguards in tow, a pink saree and matching
bindi
, the image of a simple householder on a crusade is exactly how Shweta Bhatt sees herself.
"I am just a housewife, happy with my husband, kids, my family; I would never have joined politics if my husband had not been wrongfully attacked by Modi. When my husband was wrongfully jailed, for 17 agonizing days, we were brutally harassed. I vowed then that I would contest against Modi from wherever he stood," she says.
Campaigning in pockets like Millat Nagar, a predominantly, poor Muslim neighbourhood, is relatively easy for a Congress candidate. Though even here, Shweta Bhatt is careful not to raise the issue of the riots. Leading her through the
basti
is 25-year-old Shaizad Khan, a popular municipal corporator who won the recent ward elections for the Congress. When asked if the Muslims are going to vote for the Congress, Mrs Bhatt's response is typical: "I am not seeing this as a political battle. I just want to fight for truth and justice."
Usually, any contest against Mr Modi is of little interest, the conclusion foregone - last time Mr Modi defeated Dinshaw, his Congress rival, by more than 75,000 votes from this constituency. His victory is guaranteed again but this time Shweta Bhatt has managed to grab the headlines, exactly what the Congress had aimed for. Her husband IPS officer Sanjiv Bhatt, now suspended, is hailed as a hero by Mr Modi's critics for daring to testify against the Chief Minister.
Mr Bhatt accused Mr Modi of playing a complicit role in the 2003 riots. And recently Arvind Kejriwal thanked Mr Bhatt for providing his movement with documents that alleged high corporate corruption in the Modi government. In every interview, Mrs Bhatt reiterates the trauma the family has faced since her husband went public with his allegations and says it only strengthened her resolve to fight against Mr Modi.
For the BJP this is easy ammunition. "We have always said that the Sanjiv Bhatt is a Congress agent. Now the fact that his wife has the Congress ticket is merely proof of that," Bharat Pandya, spokeperson of the BJP, declares triumphantly. The Bhatts may brush this accusation aside but it has generated much local gossip. That hasn't deterred Shweta Bhatt whose campaign is carved in total contrast to Mr Modi's high-tech blitzkrieg. Shweta sticks to simple walkabouts and door to door appeals, mainly through neglected pockets of Maninagar.
In the same city, another woman steps out of her home to fight a personal battle in the political arena. Jagruti Pandya, is contesting from Ahemdabad's Ellisbridge constituency and her reason to do so is to seek justice for her husband, Haren Pandya, once the state Home Minister and Mr Modi's bitter political rival, who was assassinated in 2003. She believes it was a murder that was politically motivated.
"I want the real culprits caught but the Modi government never allowed a fair trial so I have come to seek justice from the people's democracy."
Mrs Pandya echoes the same theme of the simple householder when she says "I am doing what any wife would do, fight for my husband, fight for truth, even Shweta Bhatt is doing the same."
Both acknowledge each other's political battle but that's where the similarities end.
Ideologically, Shweta Bhatt and Jagruti Pandya have nothing in common. Shweta has quickly become the symbol of secular resistance against Mr Modi while Mrs Pandya is said to be helped by a section of the RSS in her campaign. For the moment the only other common thread is - Keshubhai Patel. Jagruti Pandya is contesting as a candidate for Keshubhai's Gujarat Parivartan Party (GPP) while Keshubhai withdrew his GGP candidate from Maninagar in favour of Shweta Bhatt.
"Keshubhai is a very great politician, he understood my fight for justice and supported me, for which I am very grateful," says Mrs Bhatt. Keshubhai's support for the two women aims to embarrass Mr Modi on territory he cannot be politically challenged.
The two women know they are fighting at best a symbolic battle but they are one of the rare instances of a personalised challenge to Mr Modi in an otherwise faceless battle being fought by his opponents.