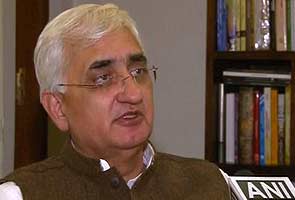 New Delhi:
Law Minister Salman Khurshid finds himself in trouble over a recent speech that promised a nine per cent sub-quota for backward Muslims in Uttar Pradesh. The minister's wife, Louise Khurshid, who is contesting elections as the Congress candidate from Farrukhabad, has been served a show-cause notice on orders of the Election Commission for violating the model code of conduct. Another notice has been issued to Mr Khurshid. (
Full text of Election Commission's notice to Salman Khurshid
)
The Congress says Mr Khurshid has done no wrong; the BJP says the Congress is guilty of a conspiracy to divide and rule India.
On Sunday, while campaigning for his wife, Mr Khurshid said that if it is elected, the Congress will set aside a nine per cent sub-quota for UP government jobs for backward Muslims; this would be carved out of existing reservation for Other Backward Castes (OBCs) in UP. The minister said more than eight Muslim castes would benefit from this move.
The UP election office has taken cognisance of a newspaper report to serve notice on Louise Khurshid. She has been asked to explain within three days the statements made by her husband. The notice to Mr Khurshid would be served by the Election Commission, sources said, based on a complaint made by the BJP this morning.
Since elections have been announced for five states, including Uttar Pradesh, which votes for a new government in seven phases starting next month, announcements or policy decisions that can influence voters in a ruling party's favour are not allowed.
Last month, the union government announced that 4.5 per cent of the existing 27 per cent quota for OBCs at the Centre will be reserved for minorities. It was an announcement made just in time to beat the setting in of the model code of conduct. That sub-quota has been more than doubled in Mr Khurshid's promise.
The Law Minister has said there is a provision for backward religious minorities and if anyone complains, he will answer. "We don't have any problems. If someone hears their complaints, we can answer accordingly. The reasons for their complaints - the public is listening and understanding," Mr Khurshid said.
His party has backed him. "What Salman Khurshid has said is right. The party could increase the sub-quota for backward Muslims within the existing OBC quota in UP in the event of its forming the government in the state," Congress spokesperson Rashid Alvi said.
The BJP described the minister's announcement as a conspiracy to woo voters ahead of the elections. Mukhtar Abbas Naqvi of the BJP said the Congress' proposal "will create an atmosphere of division in UP, it is against the interests of the country."
The Congress won 22 Lok Sabha seats in the 2009 general elections. The party has made several attempts to woo the Muslim voter in the state for these Assembly elections. A package worth nearly Rs 4000 crores was announced for the weavers of Varanasi, for example, most of who are Muslims.
In his campaign tour of the state, Congress general secretary Rahul Gandhi has been assiduously wooing minority voters - a significant 18 per cent of the electorate in UP is Muslim - in speech after speech. In east UP's Ballia today, Mr Gandhi targeted BSP leader and Chief Minister Mayawati and Mulayam Singh of the Samajwadi Party saying they had never done anything to get a quota for minorities as the Congress had now done. He also held a rally in Azamgarh, a Muslim stronghold.
Get the latest election news, live updates and election schedule for Lok Sabha Elections 2019 on ndtv.com/elections. Like us on Facebook or follow us on Twitter and Instagram for updates from each of the 543 parliamentary seats for the 2019 Indian general elections.