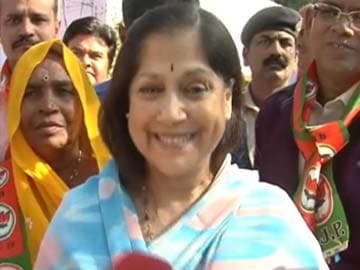 Shivpuri:
Yashodhara Raje, a BJP candidate in poll-bound Madhya Pradesh, raised eyebrows when she declared a tea set worth Rs 1.5 crore in her affidavit to the Election Commission earlier this month.
Speaking on it for the first time, the Lok Sabha MP from Gwalior said there is nothing wrong with it; it's part of her royal past.
"When we were children, for birthdays and special occasions, we would eat on gold and silver thalis and katoris (plates and bowls). It's a family tradition and so when I got married, I was given six bowls of gold and the thali - so what's the big deal? We were royals, you know," Ms Raje told NDTV.
Ms Scindia belongs to the former royal family of Gwalior and is contesting the November 25 state assembly election from Shivpuri.
The 59-year-old politician said she couldn't understand the fuss about her wealth. A section of the media claimed that the costly tea set is a new addition to her assets and may have been part of the disputed Scindia property. "I think it's because the media loves controversy,'' she said dismissively.
She explained that it was an advantage to be a rich candidate, as they are seen to be less corrupt. "Whether it is me, my sister Vasundhara (Raje, BJP's Chief Ministerial candidate for Rajasthan) or my nephew Jyotiraditya, they don't think that we take a percentage (bribe).''
Jyotiraditya Scindia, a Congress leader, is the MP of the area where Yashodhara Raje is contesting. His father Madhavrao Scindia, who died in a plane crash in 2001, was Yashodhara's brother.
Many say the BJP is trying to corner the Congress leader on his home turf by fielding his aunt Yashodhara from Shivpuri. Mr Scindia is Rahul Gandhi's choice to lead the party's campaign in Madhya Pradesh, where the Congress has been out of power since 2003.