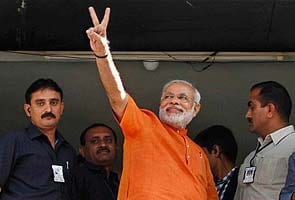 New Delhi:
In a repeat of the record turnout in the first phase, the second phase of Gujarat Assembly elections today saw 70 per cent polling in the toughest electoral test for Chief Minister Narendra Modi who is seeking a third term.
Counting of votes will be taken up on Thursday along with Himachal Pradesh that had voted on November 4. The hill state too had seen a record turn out of nearly 75 per cent.
Which party would benefit from the massive turn out in both states has been a subject of intense speculation. The incumbent BJP - in both Himachal Pradesh and Gujarat - is confident of victory.
A record 70.75 per cent of the eligible voters cast their ballots in the first of the two-phase elections last Thursday with the average polling being a little over 70 percent. The highest polling recorded in the previous Assembly elections was 63.70 per cent in 1967.
The polling was marred by a firing incident involving BJP MLA from Sahera in Panchmahal district Jetha Bharwad in which four people were injured. Bharwad has been detained and
investigation is on.
Polling was held in 95 constituences--17 in Ahmedabad city, 40 in five districts -Vadodara, Dahod, Panchmahal, Kheda and Anand-of central Gujarat, 32 in Patan, Mehsana, Sabarkantha, Gandhinagar and Banaskantha--of north Gujarat and six in Kutch district. The first phase saw voting in 87 assembly segments.
BJP has a strength of 117 in the outgoing 182-member House. Congress is hoping to return to power in the state after a gap of 22 years.
Chief Minster Narendra Modi, who is contesting from Maninagar in Ahmedabad city, and Congress' Shankarsinh Vaghela, a former Chief Minister, were among the 822 candidates whose fate were sealed in the ballots today.
Record Voter Turnout in Himachal Pradesh too
A record 74.62 per cent of the 46 lakh voters in Himachal Pradesh had exercised their franchise in the Assembly elections held on November 4. Elaborate arrangements have been made to keep the EVMs under CCTV vigil and guarded by central paramilitary forces till counting on December 20.
The electorate in Himachal Pradesh comprises 46.08 lakh voters, including 22.31 lakh women. 7,253 polling stations were set up, including in Hikkim in Lahaul and Spiti at a height of over 15,000 feet. In all, 459 candidates were in the fray, 34 of them being women.
The main contest is between ruling BJP and Congress which have put candidates in all the seats. Led by Chief Minister Prem Kumar Dhumal, incumbent BJP is hoping to script history in Himachal Pradesh by going the Punjab way, where the Akali Dal-BJP combine returned to power. The state has never repeated a government since 1977.