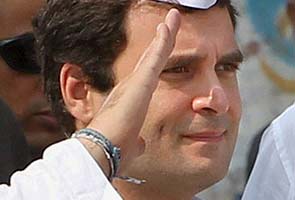 Sitapur:
Congress General Secretary Rahul Gandhi has firmly hit campaign mode in Uttar Pradesh. He has a slew of rallies scheduled in Sitapur district today.
In the past couple of months, Mr Gandhi has visited Uttar Pradesh several times with the aim of reviving the congress fortunes in the state after a period of two decades.
Mr Gandhi was on the campaign trail even on Saturday when the Election Commission announced the dates for the Uttar Pradesh elections. The Congress leader has been appealing to the people to vote his party to power in the state and said in the next 10 years, they would not be able to recognise Uttar Pradesh.
Exhorting people to bring about a change in Uttar Pradesh, Rahul said, "In the past 22 years, there have been political parties which are talking about religion and caste and not about the
poor and development."
Mr Gandhi has been lashing out at the Mayawati government through out his campaign in the state.
"You elected BJP, Mulayam (Singh) and Mayawati and what did you get?" the Congress leader said in a rally on Saturday.
Meanwhile, Prakash Karat, General Secretary of the Communist Party of India - Marxist, said that Mr Gandhi's prolific campaigning in Uttar Pradesh won't yield the results.
"Their (Congress) fate would be the same as they faced during Bihar polls," Mr Karat said.
Mr Karat also lashed out at the Centre for the Cabinet's decision of 4.5 per cent reservation for Muslims, which were announced just before the dates for the Uttar Pradesh poll dates were announced. Uttar Pradesh has 18 per cent Muslim population.
"Do only regional parties play caste-based politics? The Congress party has always used such politics for its benefit," Mr Karat said.
The CPI(M) leader also said that the citizens of India doubt the Centre's intention of passing the contentious Lokpal Bill.
"No matter what the Congress party has to say over the movement against corruption, the general opinion of the common man in the entire country is that the federal government is not keen on tackling graft seriously. People will have their doubts until a strong and efficient Lokpal (Ombudsman) Bill is not presented and passed in Parliament."
(With inputs from PTI)