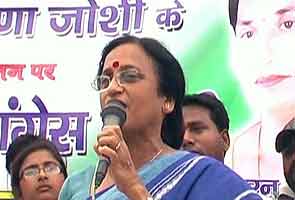 New Delhi:
Uttar Pradesh Congress chief Rita Bahuguna Joshi met Congress president Sonia Gandhi in New Delhi today and gave her resignation following the party's dismal performance in the recent assembly elections.
Mrs Bahuguna said there have been deficiencies on her part and she takes responsibility for the loss in UP.
"I have decided to resign. Responsibility is of leader and I take it on me and we would decide it in a due course of time. We need to establish predominant reason for our loss. It's extremely unfortunate, we were excepting good results," she said.
No decision has been taken on her resignation yet.
Mrs Bahuguna also said the party president has asked them to pull up socks and that it was not the time for fault finding among party members.
Stung by the Congress' disastrous performance in this week's Assembly elections, party president Sonia Gandhi is setting her house in order post haste. NDTV has learnt that Mrs Gandhi wants to fix accountability and several big heads could roll soon.
"We will have to sit down and look at the situation and the results in every single state. And then together work out a plan to correct the mistakes which we made," said Mrs Gandhi two days ago, when she made a rare appearance to explain the Congress' poll debacle and answer many tricky questions. Before that, she individually met senior party leaders. Mrs Gandhi did not sugar coat her words, nor did she make excuses when forced to admit that in crucial UP, where her son Rahul Gandhi staked political credibility, a weak party organisation and a wrong choice of candidates leading to much rebellion, did the party in.
Sources say the Congress will soon work out a detailed plan to create strong state-level leadership in key states like Maharashtra, Karnataka and Madhya Pradesh. In states like Haryana and Assam, where the Congress has strong state units, the party has done well in successive elections. In the states that voted this time, except for Manipur where the partybeat off crippling problems to win a third successive election, the party assesses that Congress leaders showed poor organisational skills.
Punjab should have been a sitter for the Congress. Instead, it handed the state and a place in history to the Shiromani Akali Dal which became the first party in 45 years to be returned to power by voters. Wrong candidate selection by the Congress cost it the important state. In Uttarakhand, deep factionalism has left the party struggling short of majority. And, sources say, the Congress president is especially upset with the Goa results since the Congress-NCP government was seen to be backed by the mining mafia and criminals. The BJP won that election comfortably.
In fixing accountability, sources say, several state Congress heads and general secretaries could be replaced.
Yesterday, the UP Congress leader said that local leaders had sabotaged the elections. "There is a lot of sabotage within the party. The local leaders acted very irresponsibly. The candidates have not been connecting with the people, I have full information," Mrs Joshi had said.
The party ended up with only 28 seats to show for the months of hectic, high-voltage campaigning that Rahul Gandhi invested. That number is a mere six more than the 22 seats the party had won five years ago.
Apart from Mrs Bahuguna, the other resignation letter that has made its way to Mrs Gandhi is reportedly that of Digvijaya Singh, the veteran Congressman who had charge of the UP elections. Sources say it has not been accepted yet. Mrs Gandhi, they say, is clear that one individual alone could not have been responsible.
The UP drubbing was made worse by the Congress' performance in the family stronghold of Amethi-Rae Bareli. Rahul Gandhi is the Lok Sabha MP from Amethi, Mrs Gandhi represents Rae Bareli and Priyanka Gandhi Vadra campaigned door-to-door in the area. For all that, the Congress won two of the ten seats on offer.
The Congress' Sultanpur MP Sanjay Singh and his wife Ameeta, who was the party candidate from the Amethi assembly seat, wasted no time in saying that that there were deep divisions within the party. Ameeta lost her election and candidly said, "I believe that coming from the era of Pandit Jawaharlal Nehru, then Mrs Gandhi, followed by Rajiv Gandhi and then Mrs Sonia Gandhi, and now Rahul Gandhi, times are changing. And if we talk about this legacy of this family then Mulayam Singh also has a legacy. But his daughter-in-law lost the election two years back. And in his own hometown." Her husband said, "Neither the party, nor the candidates wanted me to campaign. So I didn't go."
Mrs Joshi sharply rebuked the Singhs for speaking out. "It's very wrong for Sanjay Singh to speak out now. The party is in a crisis after the results and anyone doing blame game is doing extreme injustice to the party," she said.
Three days ago, at his mother's home at 10 Janpath in Delhi, Rahul Gandhi, bearded and in a white kurta pyjama, delivered a simple and honest analysis of his party's disastrous performance and his own role in Uttar Pradesh. "I led the campaign, so it is my responsibility," he said.