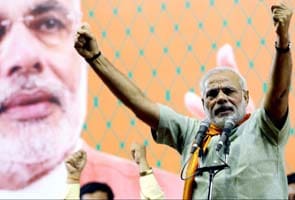 Bangalore:
When Narendra Modi is in full flow, he carries his audience with him. He spoke at a rally in south Bangalore on Sunday and the enthusiastic crowd followed his every cue.
His detractors say Mr Modi's politics is polarising, but there is little debate over his power as a speaker. No wonder that the ruling BJP had waited so longingly for the Gujarat Chief Minister to add some shine to the party's campaign as he woos Karnataka in his inimitable style.
Compare that to the Congress' A-listers. The short and relatively mild speeches made by Rahul Gandhi in his Karnataka rallies. Or the slow and sedate style in which Prime Minister Manmohan Singh speaks. Or then the speeches of Congress president Sonia Gandhi, who was compared unfavourably to Sushma Swaraj by the BJP's Ananth Kumar, who said Ms Swaraj is "a leader, not a reader."
But does style win elections?
The Congress, which fancies its chances at unseating the BJP in this Sunday's Assembly elections, dismisses the Modi factor. It is confident that the corruption charges and dissidence that the BJP faced through its five-year tenure will work in the Congress' favour.
G Parameshwara, state Congess president says, "I don't think Modi can cover up the legacy of the Bharatiya Janata Party for the last five years and what they have done, either in terms of corruption or maladministration. I don't think Modi can come here and justify these actions of the BJP leadership."
Mr Modi, it would seem, has won the BJP the battle of campaign stars. It's a no-contest on campaiging style. But in politics, an effective campaign is only one that brings in the votes.