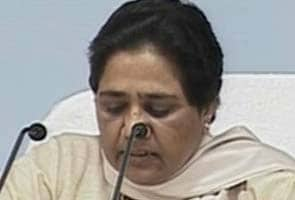 Lucknow:
In yet another clean-up act ahead of the Assembly elections in 2012, Uttar Pradesh Chief Minister Mayawati sacked four more ministers, who are facing corruption charges and have public complaints against them. The total number of ministers who have been sacked by Mayawati after the election dates were announced by the Election Commission has now reached 15.
The ministers who were dropped from the Uttar Pradesh cabinet this time are Forest Minister Fateh Bahadur Singh, Education minister Sadal Prasad, and Minorities Welfare Minister Anis Ahmed Khan.
Mayawati said that the ministers would not be fielded in the upcoming assembly elections.
In addition to the corruption charges and public complaints, Mayawati's office reportedly felt they ignored their ministries and partymen in their constituencies.
Last Sunday, Mayawati had sacked four other ministers. In a decision ratified by state Governor BL Joshi - Rakesh Dhar Tripathi, Minister for Higher Education, Rajpal Tyagi, Agriculture & Rural Development Minister, Avdhesh Kumar Verma the Minister for Backward Welfare and Hari Om, Minister for Home guards were dropped from the UP cabinet.
The decision to remove these ministers comes close on the heels of a scathing indictment of these ministers soon by Uttar Pradesh Lokayukta.
Uttar Pradesh will witness seven phases of polling from February 4 to February 28.
In the run up to the polls, the Uttar Pradesh chief minister has been targeted continuously by Congress' Rahul Gandhi over the issue of corruption.