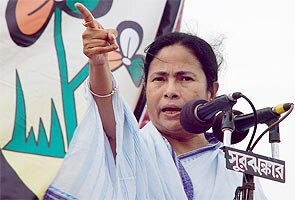 Kolkata:
Railway Minister and Trinamool Congress chief Mamata Banerjee Saturday said her party will simultaneously make a new land policy for West Bengal, along with the central government, if it wins the April-May assembly elections.
"We will not follow the draconian land acquisition law of 1894. We will take up new land policy simultaneously with the centre," she said in an interview to a Bengali news channel.
"We will make a land bank. This Marxist government has not done anything for last 35 years. They could not even set up a land bank," added Banerjee.
The anti-land acquisition movements in Singur and Nandigram led by Banerjee changed the poll script of the state and changed her party's electoral fortunes.
Banerjee also promised a data bank to ensure employment of the unemployed youth of the state.
"If we come to power, we will make a data bank of all the unemployment youths of the state. This bank will have all the data of the youths according to their qualification and they will get call for jobs according to the data," she said.