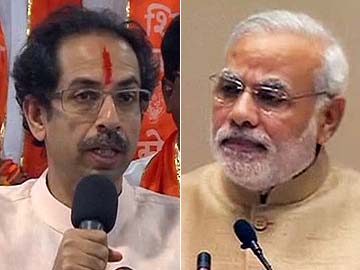 Mumbai:
How Maharashtra has voted will be known in a few hours from now, but with exit polls predicting that no one party will get a clear majority, there is much speculation already about post-poll alliances.
Most exit polls have projected the BJP to emerge as the party with most seats but short of the halfway mark at 144 to need the support of another party. The most likely scenario being talked about is a BJP-Shiv Sena patch-up.
Back-channel talks have already begun; the tone was set by an editorial in the Shiv Sena's newpaper Saamna, which said this morning, "Though it is difficult to mend broken hearts, Maharashtra needs stability and peace".
Sena spokesperson Sanjay Raut told NDTV, "In the interest of Maharashtra, we can go with anyone who supports us." Sena is expected to be the second largest winner in the state, exit polls say it would win 73 seats.
The BJP split with the Shiv Sena days before voting, ending the 25-year-alliance in Maharahstra over seat sharing. The Sena attacked the BJP in its campaign, but is yet to walk out of the union government.
About an hour after the Sena-BJP split, the Nationalist Cogress Party of the rival camp announced it was parting ways with partner Congress. The two splits not only turned the assembly election into a four-way contest, but have also left the field open for new political alignments.
Sources say while the Sena still considers the BJP its natural ally, the BJP is adopting a more aggressive stance, even planning to withdraw support to the Sena in the Mumbai municipality if it gets a clear majority.
But some in the party say they are keeping channels open. Pankaja Munde, daughter of the late Gopinath Munde, told NDTV, "If I'm asked by my party, I will negotiate with the Shiv Sena. My family has a good relationship with them (the Thackerays)."
But behind talks of reconciliation, both saffron parties are exploring other options. Sena sources say the party is not averse to support even from the Nationalist Congress Party, or NCP, as long as Uddhav Thackeray can become the chief minister.
Mr Raut told NDTV, "There are a lot of options once you are the single largest party. Under any circumstance, the Sena will form the government and the chief minister will be Uddhav."
Sources in the NCP say they, too, aren't averse to a tie-up, as long as the Sena tones down its Hindutva agenda. The party, though, denies possibilities of a tie-up with the BJP. NCP spokesperson Nawab Malik told NDTV it was out of question. "We will sit in the opposition," he said.