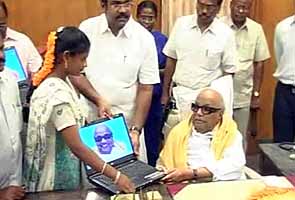 Chennai:
DMK president and Tamil Nadu Chief Minister M Karunanidhi doesn't have any immoveable property, not even a car, but along with two wives owns moveable assets worth Rs 41.13 crore, his election affidavit said.
Karunanidhi has moveable assets of around Rs 4.93 crore as bank deposits and cash on hand, the affidavit filed by him while submitting his nomination for Thiruvarur Assembly seat for the April 13 polls today said.
The 87-year old-DMK patriarch has declared moveable assets of Rs 15.34 crore for his first wife, Dayalu Ammal and Rs 20.83 crore for his second wife Rajathi Ammal.
He doesn't own a car and has no agricultural land and or house, it said. The premises where he is residing in has been donated to Anjugam Trust, to start a hospital after his life time.
Karunanidhi has a debt of Rs 10 lakh while Rajathi Ammal has Rs 1.01 crore as unsecured loan to be repaid to her daughter Kanimozhi, Rajya Sabha MP.
Dayalu Ammal has a share of Rs six crore in Kalaignar TV while Rajathi Ammal has a share of Rs 2.5 crore in West Gate Logistics Pvt Ltd and other investment in business to the tune of Rs 2.57 crore.
According to the affidavit, Dayalu Ammal has jewels worth Rs 13 lakh and Rajathi Ammal worth Rs nine lakhs. Dayalu Ammal owns a housing site at Thiruvarur and Rajathi Ammal a house in CIT Colony, Chennai.
Karunanidhi had declared an income of Rs 37 lakh per annum and Dayalu Rs 64 lakhs during last assessment year. Rajathi Ammal had declared an income of Rs 1.67 crore.
No criminal cases are pending against him, the affidavit said.