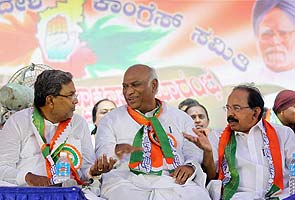 Bangalore:
With three weeks to go for the May 5 Karnataka assembly poll, the Congress on Saturday launched its poll campaign, the ruling BJP sought the voters' forgiveness for corruption scandals and two parties released their manifestos.
Urging the electorate to vote for the BJP, Chief Minister Jagadish Shettar sought their forgiveness and said that "those who had tainted the party were no longer in it".
Mr Shettar was referring to former chief minister B.S. Yeddyurappa, whose tenure in 2008-11 was marked by various scandals.
Mr Yeddyurappa was forced out of office in July 2011. He quit the BJP last year and now leads Karnataka Janata Party (KJP).
Mr Shettar said he and his predecessor D.V. Sadananda Gowda, who succeeded Yeddyurappa in August 2011, had provided scandal-free governance.
The Congress held a rally in north Bangalore to mark the launch of its campaign.
State Congress leader and former external affairs minister S.M. Krishna did not attend the rally, leading to speculation that he was not happy with the first list of 177 candidates the party has released.
The second list for the remaining 47 seats is expected Monday, according to Congress sources.
Central ministers Mallikharjun Kharge and M. Veerappa Moily, besides state Congress chief G. Parameshwara and other leaders who addressed the rally said that the people were tired of the BJP's corruption-marred rule and should bring the Congress back to power.
The Janata Dal-Secular (JD-S), the third major party in the state, and Yeddyurappa's KJP released their manifestos in Bangalore on Saturday promising to waive farmers' loans if voted to power.
The JD-S pledged to introduce a pension scheme for farmers, agricultural labourers, fishermen, weavers and rural artisans.
The KJP promised a monthly pension of Rs.500 for farmers over 65 years of age and Rs.2,000 crore for the welfare of the Muslim community and Rs.250 crore Christians.