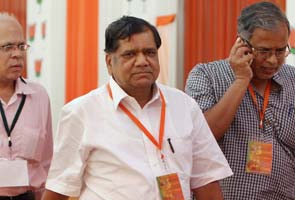 Bangalore:
For the Bharatiya Janata Party (BJP), it is game over in Karnataka. The party, which broke into the Congress' bastion, forming its first government in the south, has faced an embarrassing loss, failing to garner even half of the 110 seats it won last time. (
Read more
)
"BJP whole heartedly accepts the defeat... The reason was our internal problems... We couldn't solve the problems at the right time," senior leader M. Venkaiah Naidu, acceding to the infighting within the party that finally took its toll. The factionalism was triggered by the party's refusal to reinstate former leader BS Yeddyurappa as chief minister owing to a slew of corruption charges. The Lingayat strongman raised a banner of revolt, ultimately quitting his party of 40 years, to launch his own Karnataka Janata Party (KJP) last year. (
Read: Highlights of the Karnataka election results
)
"This accidental fluke victory of the Congress is because of the split in BJP votes," said the party's Ravi Shankar Prasad, referring to Mr Yeddyurappa's KJP having hurt the BJP's chances.
But the present BJP government led by Jagadish Shettar, too, has also not been able to rid itself of the shadow of corruption, and accusations of misgovernance - something that seems to have clearly reflected in the dismal results for the party today - it fell way behind the Congress, and settled for a tie with the JD(S) for the second spot with 40 seats each.
Appearances by star campaigner Narendra Modi, too, haven't helped with the party faring poorly in areas including Bangalore where the Gujarat Chief Minister campaigned. "Congress victory in Karnataka is rejection of BJP's ideology," Prime Minister Manmohan Singh said today.