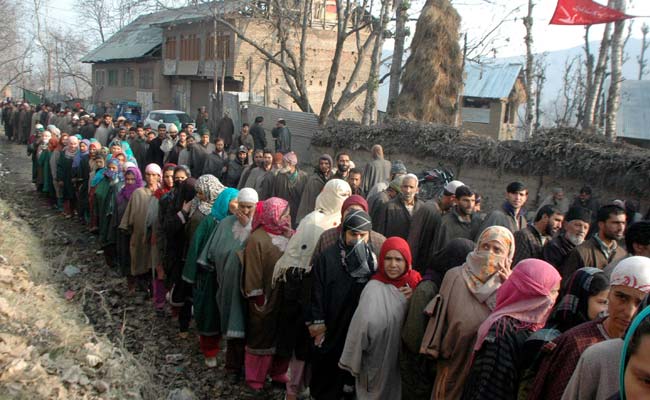 Srinagar/Jammu:
In a rerun of record polling in the first phase, 72 per cent voter turnout was registered in the second phase of the assembly elections in Jammu and Kashmir today. The 15.3 lakh electorate across five districts which went to polls, had ignored the boycott call by separatist groups.
The first phase of the five-phase polls for 15 seats on November 25 had witnessed a record 71.28 per cent polling. Today, 175 candidates -- including four ministers and 11 legislators -- were in fray for 18 seats.
"The latest figure is 71 per cent. We expect these numbers to go up by 1-2 per cent further," Deputy Election Commissioner Vinod Zutshi told reporters in Delhi.
Mr Zutshi said "no untoward incident" took place and the entire event was peaceful. Of the five districts, two were in the Valley and three in Jammu. "Pretty heavy" voting was reported in Reasi and Udhampur districts.
The figures for voting today in the five districts stand thus: Reasi (80%), Udhampur (76%), Poonch (75%), Kupwara (68%) and Kulgam (above 60%).
There was a tight security cover in Kulgam and Kupwara districts following back-to-back attacks on two sarpanches by militants over the last two days, in which one was killed.
Of the 18 constituencies, Handwara in north Kashmir and Kupwara district were in focus, from where separatist-turned-mainstream politician Sajad Gani Lone is making a debut in the assembly elections after his unsuccessful foray in the Lok Sabha polls in 2009.
Although the cold weather conditions and heavy fog posed a hindrance in some areas in the early hours, voters started flocking the polling stations as the day progressed. Several elderly persons were among the voters.
Alam Din, said to be 120 years old, voted at Poonch district's Salotri. He said he was voting for development.
Mohammad Rashid, and three of his relatives had to carry his maternal grandfather Mohammad Hussain, aged 107, from vote at Karmara polling station near the Line of Control (LoC).
Undeterred by the threat of firing from across the border by Pakistani forces, sarpanch Mohammad Azam, along with 310 others, walked to the hypersensitive polling booth along LoC in Poonch district to cast vote for "ceasefire" and "development".