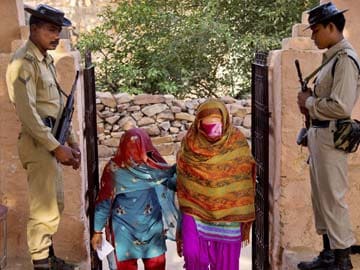 Chandigarh:
More than 53,000 voters opted for 'None of the Above (NOTA)' option in EVMs in the Haryana assembly polls, thus rejecting the candidates fielded by political parties in their respective constituencies.
A total of 53,613 voters pressed the NOTA button, which works out at 0.4 per cent of the total votes polled for 90 assembly seats in Haryana, as per data available with the election office.
NOTA option was exercised the most in Dabwali seat where 1,549 voters rejected all the candidates in the fray. Naina Singh Chautala of INLD and wife of party's senior leader Ajay Singh Chautala defeated K V Singh of Congress by 8,545 votes from Dabwali seat.
The Bawani Khera (SC) assembly seat recorded the least number of people exercising this option as 169 voters opted not to vote for any candidate. Bishamber Singh of BJP defeated INLD candidate Daya Bhurtana from Bawani Khera seat.
From Garhi Sampla-Kiloi seat where two-time Haryana Chief Minister Bhupinder Singh Hooda was contesting, a total of 402 voters opted for the NOTA option. Mr Hooda defeated INLD candidate Satish Kumar Nandal by 47,185 votes.
Stamping its authority in Haryana politics, BJP stormed to power in the state, getting a majority on its own for the first time, dislodging Congress and equally decimating Indian National Lok Dal.
Riding on the Narendra Modi wave, which had swept Haryana in the Lok Sabha elections helping BJP bag seven of the eight seats it contested, the saffron party finished with a tally of 47, one more than the required majority in the 90-member assembly.
Out of the remaining 43 seats, INC bagged 15, INLD 19, HJC-BL two, SAD and BSP one each and Independents five.